ST:TNG 4.26 Redemption ~ Star Trek: The Next Generation Re-Watch
Change is coming to the Klingon Empire and Worf will be a part of it in 4.26 Redemption.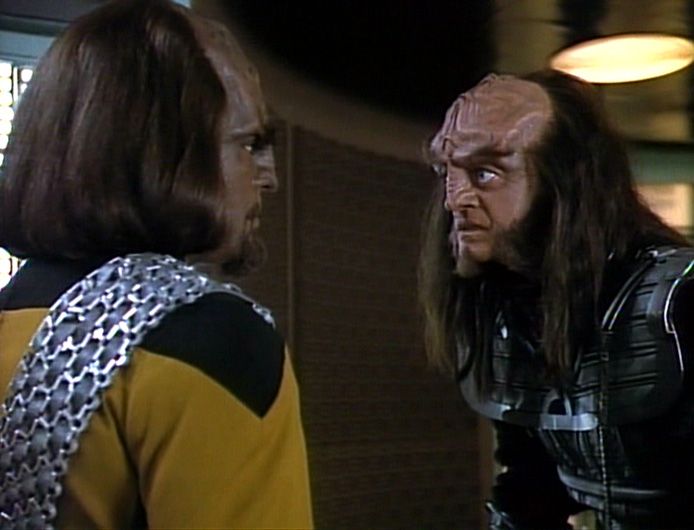 Images Source: TrekCore
Star Trek:
The Next Generation Re-Watch
continues with ...
Redemption
Season 4, Episode 26
Story:
Captain Picard is called upon to complete his duties as arbitrator in the selection of the Chancellor of The Klingon High Council which also serves as an opportunity for clear Worf's family name and his discommendation. A wrench is thrown in the works when just as Gowron is to be named, a son of Duras is presented as an option to continue his line, and it's revealed that Duras' sisters Lursa and B'Etor are in league with The Romulans.
Character Focus:
It's all Klingons, all the time in this episode!!
Obviously we have Worf as a huge focus as he takes leave to work on clearing his family, which he is successful in doing. Worf also decides to like among his people during this time when it appears they will break out into civil war, and resigns his commission in Starfleet.
Gowron is important here as he is in line to and does become the Chancellor of the Klingon High Council being named so by Picard, a process that started in 4.07 Reunion. Gowron also clears Worf discommendation after he is named Chancellor and needs help to battle the Duras family.
From Duras' family we have his sisters Lursa and B'Etor, who present Toral a son of Duras as a possible candidate to succeed Duras as Chancellor after his death in 4.07 Reunion.
We also see Worf's brother Kurn, who we saw back in 3.17 Sins of the Father, although he isn't a huge focus here although he does get to save the day when
Last but not least we have the one non-Klingon of note in the Romulan who bears a striking resemblance to Tasha Yar.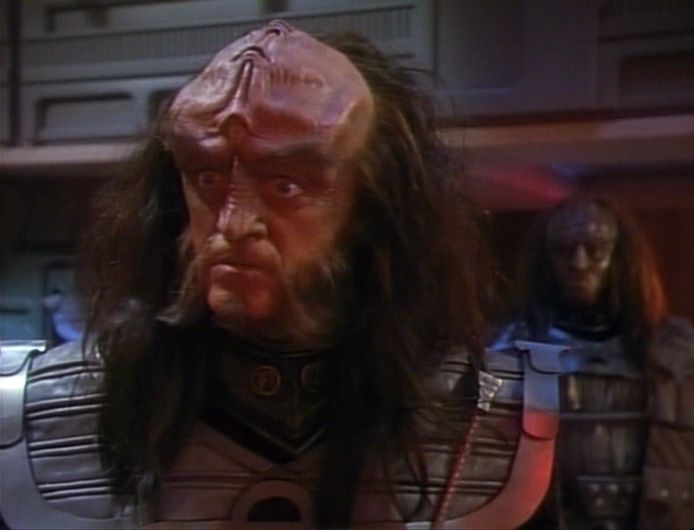 Images Source: TrekCore
What I remembered about this episode:
I remember this one for the OMG what the HECK is going on!!!! Reaction to the Romulan-looking Yar. We actually saw this character in the shadows of the Romulan ship a few episodes ago in 4.24 The Mind's Eye.
I also always remember episodes with Gowron. I love his character, and those CRAZY eyes!
What I noticed now, that I didn't notice then:
There is a lot going on in this one, even thought I've seen it before and know where it's going it was a little hard to keep up!
I love how although Picard calls Worf out on using Starfleet resources to help The Klingon Empire, he still finds a way to help him by making the information available to anyone who requests it.
What feels different now, than then:
I have to keep mum on this, almost anything I would say would be a spoiler for future episodes.
The crew lining the hall of the ship to escort / honour Worf as the left the ship totally got me verklempt.
What remained the same:
I love the Klingon sisters ... and ..., I actually thought we would have seen them earlier in the series than now. They have a beautifully awkward scene where they invite Picard to tea in this one.
What I see differently:
I don't remember Kurn being in non-agreement with Worf, they didn't seem to share the same brotherly-ness as they did when we first saw them together in 3.17 Sins of the Father.
This episode was a rare case of Picard not responding to someone in need, when Gowron's ship is under attack, although he is clear that doing so would represent Federation involvement in an internal Klingon conflict. Good thing Worf is a whiz with the weapons and Kurn showed up to save the day. Although retrospectively, it seems odd that Klingons would even ask for help... makes you think!
There was a lot of talk about Worf's humanity, and a lot of notable scenes that really shared about his character over time to the audience. I didn't notice while watching, but this is actually a dead giveaway that someone is going to leave the show.
Great Quotes:
"We cannot regain honor by acting dishonorably." - Worf
"You have manipulated the circumstances with the skill... of a Romulan." - Picard to Lursa and B'Etor
"What are you, Worf? Do you tremble and quake with fear at the approach of combat? Hoping to talk your way out of a fight like a Human? Or do you hear the cry of the warrior, calling you to battle, calling to glory like a Klingon?"- Gowron
Left off at:
Worf resigns from Starfleet to be among his people at this time of change, and then there is a HUGE reveal that the mastermind behind the jockeying of Klingon power comes from a Tasha Yar-like Romulan who appears from the shadows. For the second season in a row, the season finale is a 'To Be Continued' episode.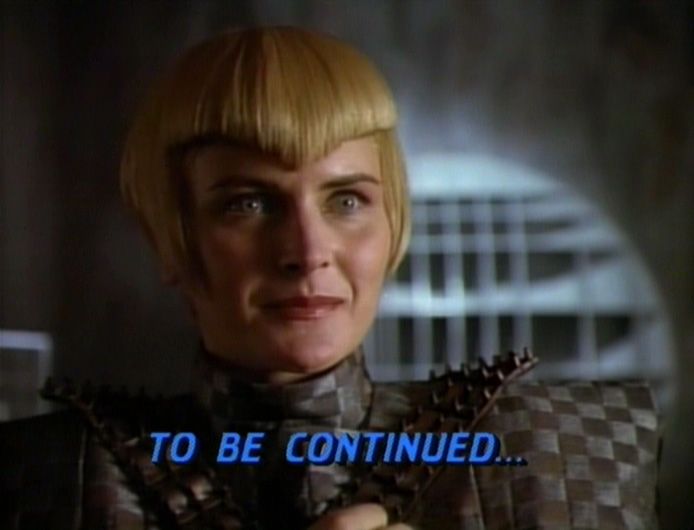 Images Source: TrekCore