ST:TNG 4.25 In Theory ~ Star Trek: The Next Generation Re-Watch
Love is in on the positronic brain when Data gets a girlfriend in 4.25 In Theory.
Images Source: TrekCore
Star Trek:
The Next Generation Re-Watch
continues with ...
In Theory
Season 4, Episode 25
Story:
While the The Enterprise explores a dark matter nebula, Data forges into new territory when Lieutenant Jenna D'Sora starts to engage in a personal, romantic relationship with him.
Character Focus:
Data obviously is the focus here, with his first romantic relationship exploration with Jenna.
Jenna D'Sora is also a strong focus, with her interest in and eventual dating Data. I found it a bit odd we've never seen her before although she bears a passing resemblance to the original Chief of Engineering from back in 1.03 The Naked Now. I know it isn't, but that's mostly because of being able to easily recognize Michele Scarabelli who portrayed Susan Fransisco on the Alien Nation TV series.
Although Data and Jenna are the clear focus of the episode, we get a really cool look at almost the entire regular cast and their advice on love, as Data approaches Guinan, Geordi, Troi, Riker, Worf and even Captain Picard . It's a really awesome set of scenes in the episode, and a little surprizing too!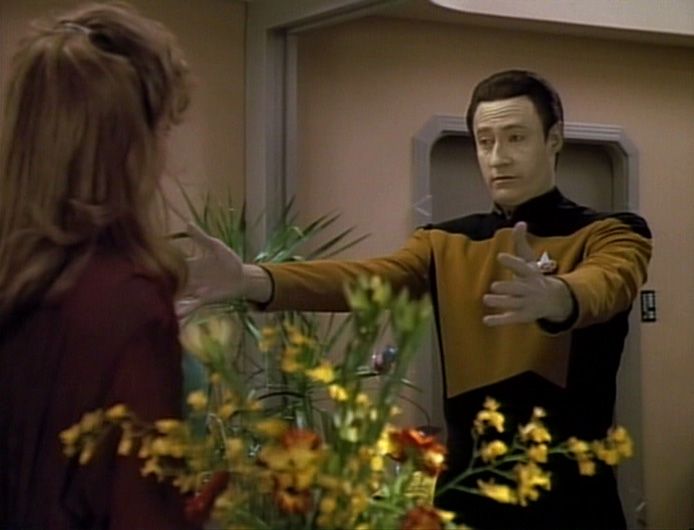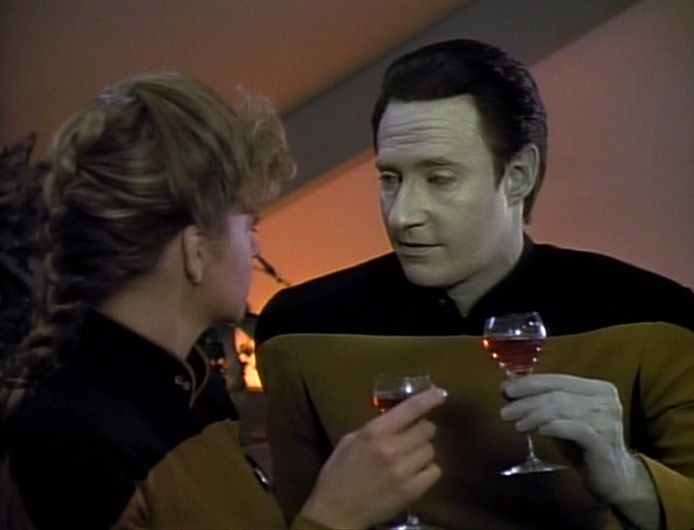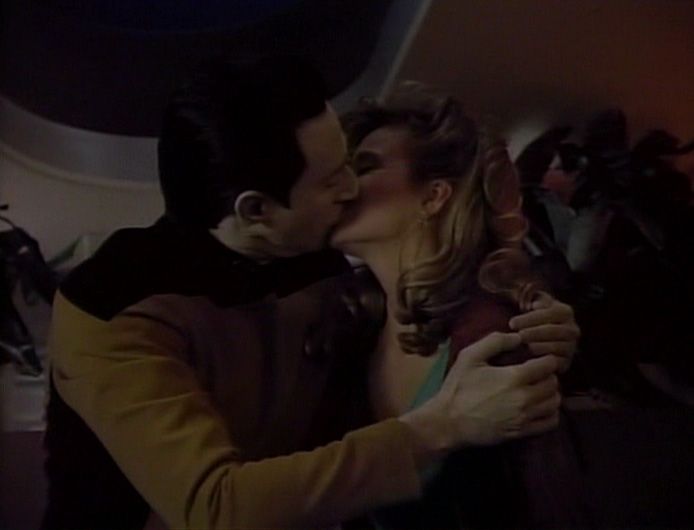 Images Source: TrekCore
What I remembered about this episode:
I remember this the "Data gets a girlfriend" episode, or in my head I would have said "Data in love" ep, which would be inaccurate.
What I noticed now, that I didn't notice then:
This one cracked me up, a lot. It's highly quotable in the way that Data is often highly quotable. I almost lost it when he and Jenna have their first 'spat', and he tells Jenna maybe it's all HER fault and that she's not his mother. It comes out of nowhere, and is very amusing.
I thought they would have explored more in the relationship that Data could or may just do anything Jenna tells him, and how that affects a relationship or if it can be a relationship if it's dictated mostly by one person. They play with it a bit, but not that much.
I totally forgot about the side-plot on the dark matter nebula and it's odd effect on the ship of things moving slightly out of place. I thought it totally could have been a poltergeist as Picard suggests. It also reminded me on an old school Star Trek episode when people move so fast no one can see them.
What feels different now, than then:
I was paying particular attention to when Captain Picard was, or wasn't, on screen as this episode was directed by Patrick Stewart! Many of the cast members took the directing chair throughout the season, and I don't always want to know while watching but it is actually something I did may have noticed at the time. With the opening sequence being having the text of the characters names and actors who portrayed them, and seeing the sequence so many times, I was well-versed in the cast by their real names which is definitely a fan-flag sign from pre-IMDB days!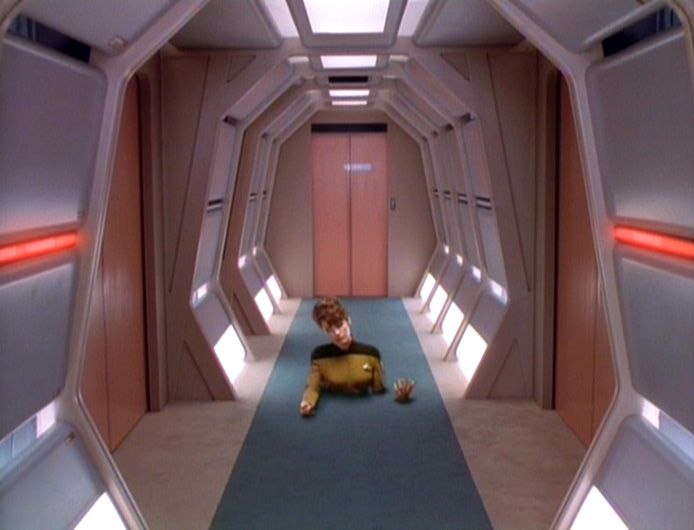 Images Source: TrekCore
What remained the same:
The side-plot on the odd occurrences that happen on the ship are totally terrifying, and when they get into their final stages remind me of the film The Philadelphia Experiement.
What I see differently:
Is Spot a different cat? This time it looked like more like an Abyssinian. And...I'm not sure the science-y explanation explains how he got out of Data's quarters. Maybe he is just a tricksy cat!
I would not have guessed most of the advice and reactions from the crewmembers to Data on love, Guinan says first love is something that advice shouldn't be given on (which Data doesn't follow at all!), Troi is very stern in her response to him that it's not just an experiment and then on the flip side Riker says to go for it! And Worf gets a little protective as Jenna works under him. It's quite funny.
Retrospectively, there feels like a bit of a meta-moment when Picard says he's going to pilot the shuttlecraft to get the ship out of the nebula, it's a "I've got this one" vibe that parallels the fact that Patrick Stewart is directing this one.
Great Quotes:
"As close as we are, I... I don't really matter to you. Not really. Nothing I can say or do will ever make you happy or, or sad... or touch you in any way." - Jenna D'Sora
"I would be delighted to offer any advice I can on understanding women. When I have some, I'll let you know." - Picard
"With regard to romantic relationships, there is no real me." - Data
"We're all more than the sum of our parts, Data. You'll have to be more than the sum of your programming." - Troi
Left off at:
Jenna breaks off the relationship with Data after he lists the multitude of things he was thinking when was kissing her, and Picard maneuvers a shuttlecraft through the dark matter nebula ahead of The Enterprise so that the ship can exit safely.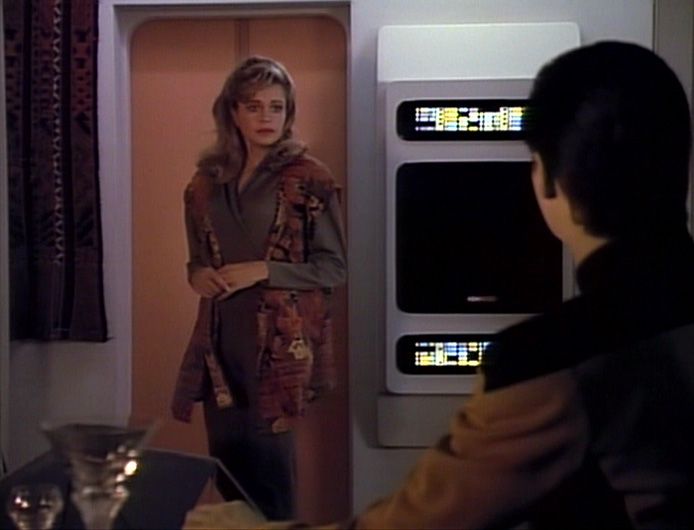 Images Source: TrekCore