ST:TNG 4.24 The Mind's Eye ~ Star Trek: The Next Generation Re-Watch
Geordi's trip to Risa is ambushed by Romulans causing trouble in 4.24 The Mind's Eye.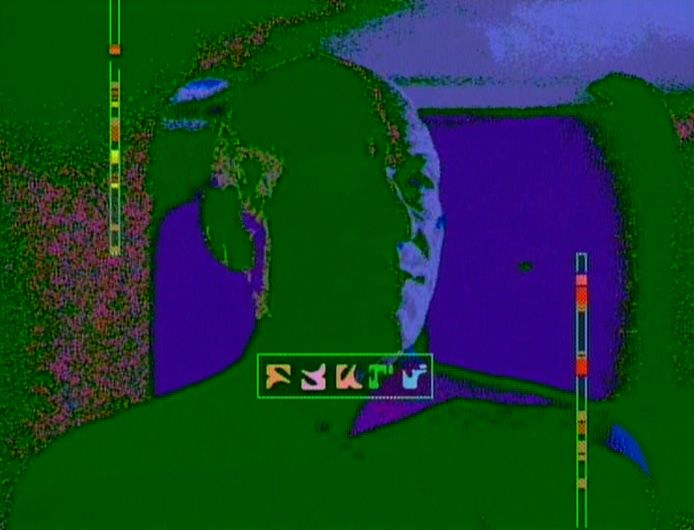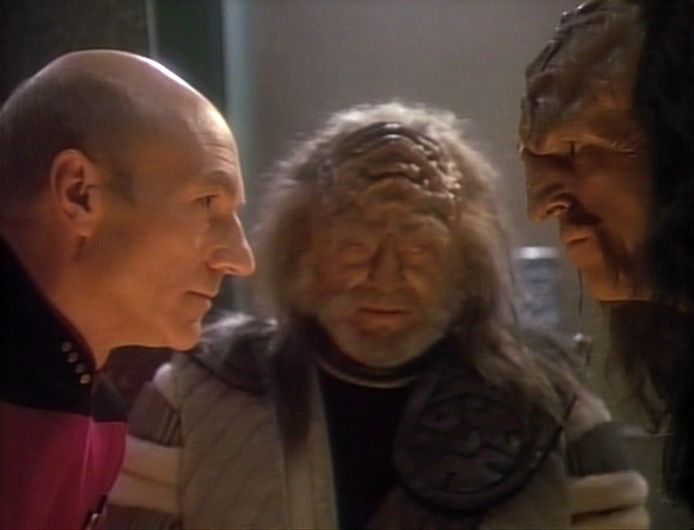 Images Source: TrekCore
Star Trek:
The Next Generation Re-Watch
continues with ...
The Mind's Eye
Season 4, Episode 24
Story:
Geordi is capture by Romulans en route to Risa and programmed to kill on command, when he returns to The Enterprise the crew is dealing with accusations against the Federation in aiding Klingon rebels which in turn creates tension in the Federation/Klingon peace treaty.
What it's really about:
This one is actually a bit arch-y in terms of The Klingons and The Romulans, and that a Klingon was working with The Romulans to try and stage that The Federation is helping rebels to disrupt the peace between The Klingons and The Federation.
Character Focus:
Geordi is a strong focus of this episode, as he's captured by Romulans and brainwashed to kill on command by them.

Klingons Kell and Governor Vagh play key roles, Kell as the connection between The Klingons and The Romulans and Vagh as the target of assassination.
Both Data and Troi are important in this episode for sure. Data for discovering Geordi is the culprit and that the spy is either Picard or Kell. Troi is key as we see her counselling Geordi in the aftermath of the realization of the capture and brainwashing. And there is a lot of Worf tension with the Klingons regarding his discommendation.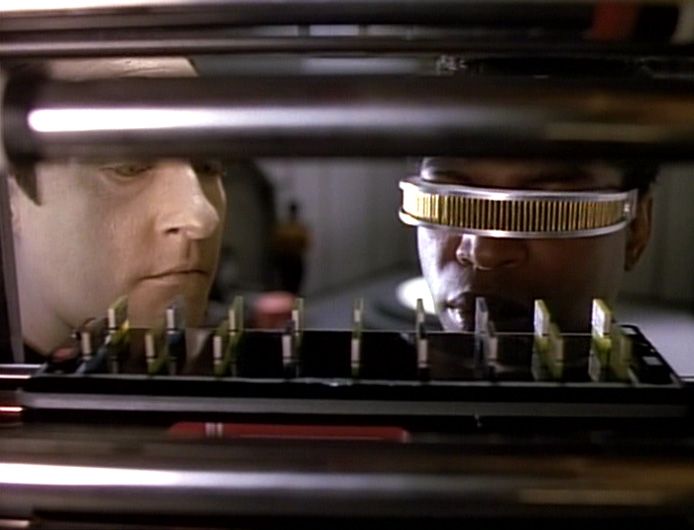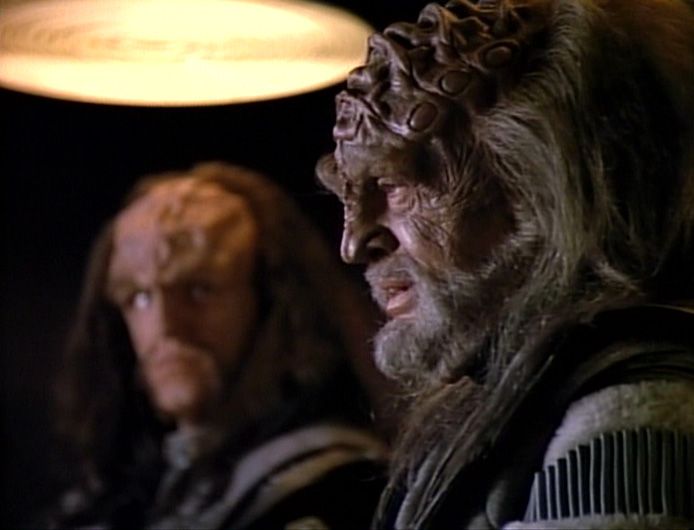 Images Source: TrekCore
What I remembered about this episode:
This is another episode I remembered from the very first frame you see. I was like "OH yeah, Geordi get's captured by Romulans and they use his visor implants to make him do bad things and we see fuzzy visor image on the screen".
I love the game Geordi plays with the computer en route to Risa, and there great moment where it goes from 'easy' to 'challenging' when he needs to name all the items in alphabetical order. The computer sure comes up with weird games to play to pass the time!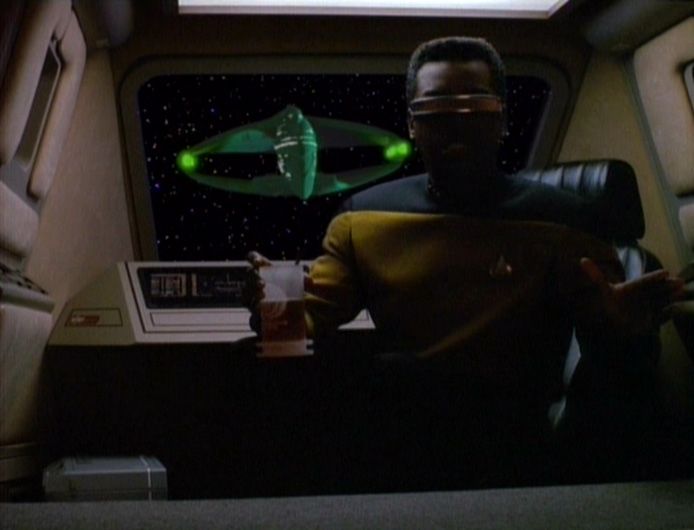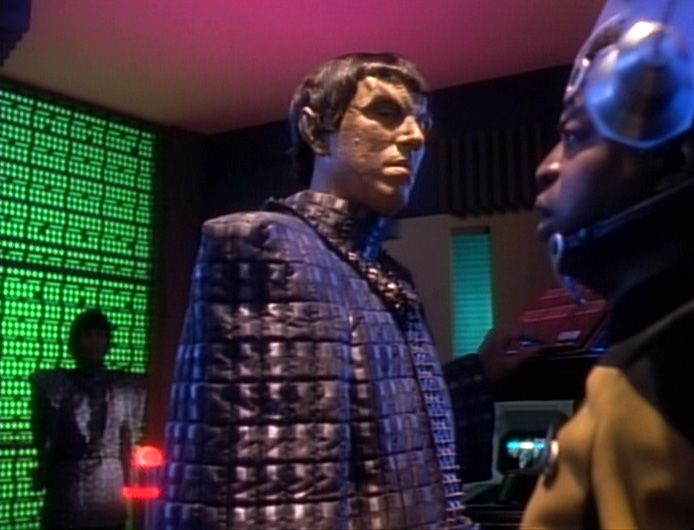 Images Source: TrekCore
What I noticed now, that I didn't notice then:
Data sure takes his freaking time on compiling the evidence when it's starting to look like Geordi is the culprit of the oddities on the ship, it was reminding me of the Benzite Ensign Mendon from 2.08 A Matter of Honor, who doesn't put forth that something is going wrong until he has a solution. I almost felt like this was an over-geeked moment, but I mis-remembered which episode and the character name, which oddly made me feel better.
There was something else I noticed on this one, but I can't say what it is because it would be a spoiler :).
What feels different now, than then:
I actually found a lot of this episode confusing, in particular the whole Romulan/Klingon/Federation is there a spy, who is it, what are they doing and why bits. I think it's mostly because they kept talking about the Kriosian rebels and the Krios system, and I thought that was an entire different alien race that was at war with the Klingons, but it actually looks like it is a Klingon system, so it would be Kriosian Klingon rebels? That's as much as I could figure out! And... nope I was wrong on my correction as the Kriosians are a separate peoples. What they have to do with the Klingons, I have no idea except a conflict noted here.
I also was confused by when it appears that The Romulans send someone in place of Geordi to Risa...who is it? Are they human? To they somehow implant that persons memories into Geordi? Was there no one there that Geordi knew that would flag that it's not really him? Very odd.
What remained the same:
I get all like "Don't hurt Geordi, you meanies!!!!" when the Romulans take him. And although it's inferred they specifically were waiting for an opportunity to snag Geordi so they could brainwash him through his visor implants, he's really the last person you'd want to pick for this type of thing. He is 100% 'Nice Guy', which makes it all the more disturbing to see him hurt people without remorse, although he does at times get confused and ends up resistsing.
What I see differently:
This episode is quite clever, the story is very slowly parsed out and three is lots of opportunities to misjudge what's going on and assume motivations of the different characters. It also plays into the larger arc involving the Romulans, The Klingons and The Federation.
This is one episode where seeing them in sequence helps, because instead of feeling like it's a far stretch to know about Geordi's visor you have the context of seeing him with Centurion Bochra stranded on a planet together in 3.07 The Enemy, and we even more recently saw a Romulan spy be revealed as returned to The Romulans in 4.11 Data's Day.
It's kind of funny that Geordi is the culprit, but no one even thinks twice about him being so even though it's mentioned several times that he is one of the few people that could have pulled everything off.
This episode is JAMMED PACKED. I have no idea how they got so much stuff in just 1 episode. What a feat.
Great Quotes:
"I have surmised that Commander La Forge was conditioned by Romulans, a process referred to historically - and somewhat inaccurately - as "brainwashing"." - Data
"You swear well, Picard. You must have Klingon blood in your veins." - Governor Vagh
"It'll take time, Geordi. A long time. But we will reconstruct your memory. Together. "- Troi
Left off at:
This is one of the few episodes that is left on an ominous note. Although Data pieces together the puzzle that Geordi was brainwashed and the assassination attempted on Vagh is avoided and the real spy (Kell) is revealed, we are left knowing that Geordi remembers a trip to Risa that he didn't actually take, and only barely remembers encountering the Romulans. It's pretty creepy.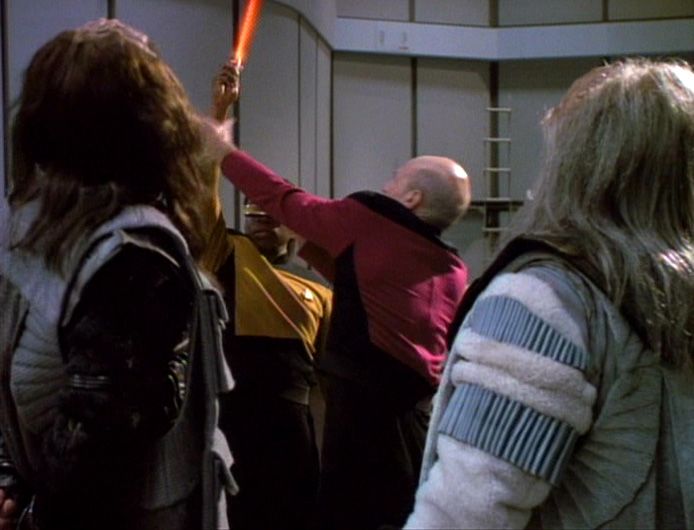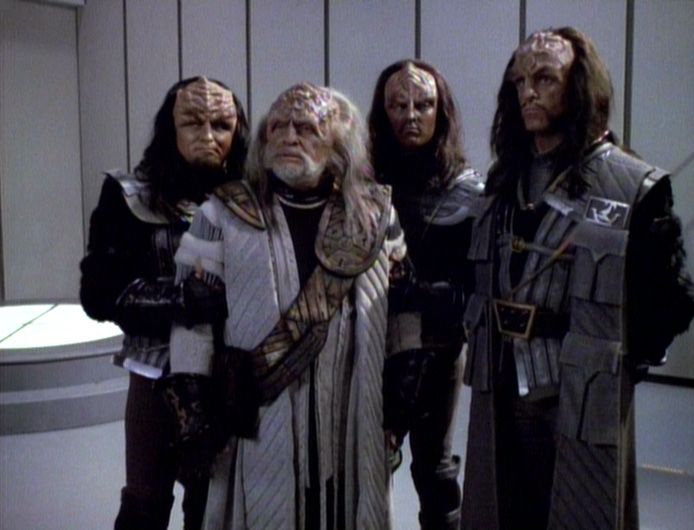 Images Source: TrekCore