ST:TNG 4.02 Family ~ Star Trek: The Next Generation Re-Watch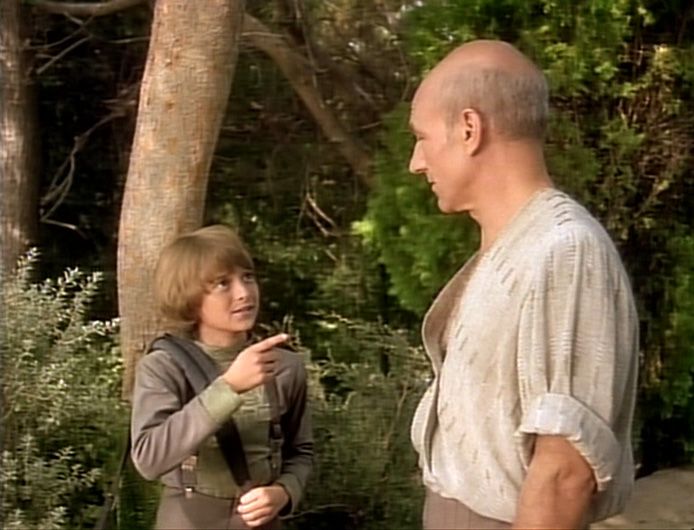 Images Source: TrekCore
Star Trek:
The Next Generation Re-Watch
continues with the healing of home in ...
Family
Season 4, Episode 2
Story:
While The Enterprise is in for repairs after the Borg incident, members of the crew connect with family aboard the ship as well as down on Earth.
What it's really about:
This is a special episode for character fans, as it's purely character focused and we get to see several crew members with their families for the first time. Although arguably Picard is the main focus, we also have strong story lines with Worf and Wesley.
Character Focus:
As noted about Picard is the focus here as he is in arguably still in recovery mode after being taken by The Borg and he home to France and stays with his older brother Robert, sister-in-law Marie and nephew René (who he charmingly calls Uncle).
Worf, who is visited by his foster parents Sergey and Helena Rozhenko, who visit The Enterprise without telling Worf and are concerned but supporting about his from discommendation from The Klingon High Council.
Wesley also has a suprizing family interaction as Beverly picks up items from storage which include a recorded holographic message from Jack Crusher from when Wesley was just 10 months old, and was to be a first of a series to be given to him when he turned 18 (which I think he is now, although it's not noted in this ep).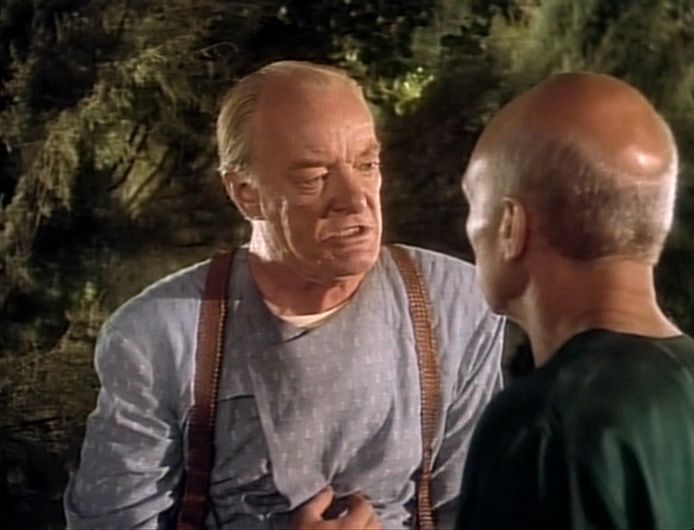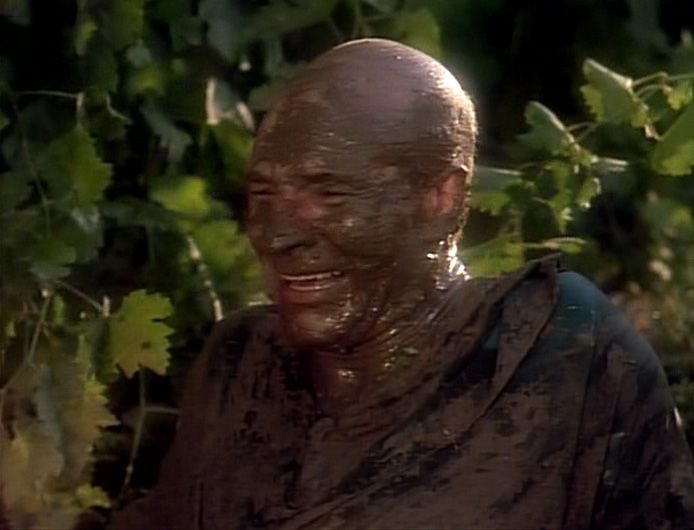 Images Source: TrekCore
What I remembered about this episode:
I mostly remember Picard's time at home in France and in particular the relationship and fight he has with his brother, Robert. I remember not quite understanding what happened when they fight, and the laughter turning to sadness and release. I get that now. It's quite an amazing scene.
No one's family members were what I expected. Not Picard's family, not Worf's foster parents nor even the image of Wesley's father. It's interesting as time and time again the crew often refers to each other as family, so to get to see their *actual* family is almost unnerving in a way. Totally weird.
What I noticed now, that I didn't notice then:
There is a bit of a disjointed scene where Worf's Dad is about to ask Geordi a question, but then we never see them discuss it. It is later revealed that his parents are concerned for him regarding is discommendatation, but the show doesn't usually leave loops like that open.
We get to see Worf's quarters! I don't they've shown them before and they look pretty bright and larger than I'd expected! I guess he's a pretty high ranking officer.
The character of René reminds me a lot of the character Artim from Star Trek: Insurrection.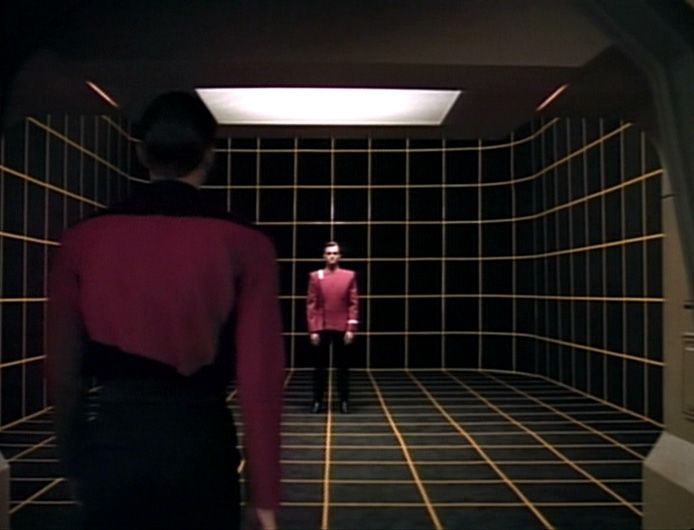 Images Source: TrekCore
What feels different now, than then:
The message from Wesley's Dad at the time felt like a miraculous and unique thing to be able to record a visual message to a future version of someone, but now this is easily doable via video (not holographically... yet) and with blogging and YouTube people lives can be publically documented before they even understand what that means. Although personal use video cameras were around then, this idea was pretty far out. I'm very curious to see generationally how we feel about this kind of memory capture over time.
I also think the message from Wesley's Dad is rather heartbreaking, the clear sense that he discusses how he feels about it him how they have so much to look forward to together over time is really tragic.
What remained the same:
Almost nothing, this is one episode where I see it rather differently now than I did at the time.
That being said, I find it hard to believe that Picard is the youngest in a sibling set. That just doesn't quite fit for me. And I still don't 'get' the whole tough-love thing with Robert, but it does work.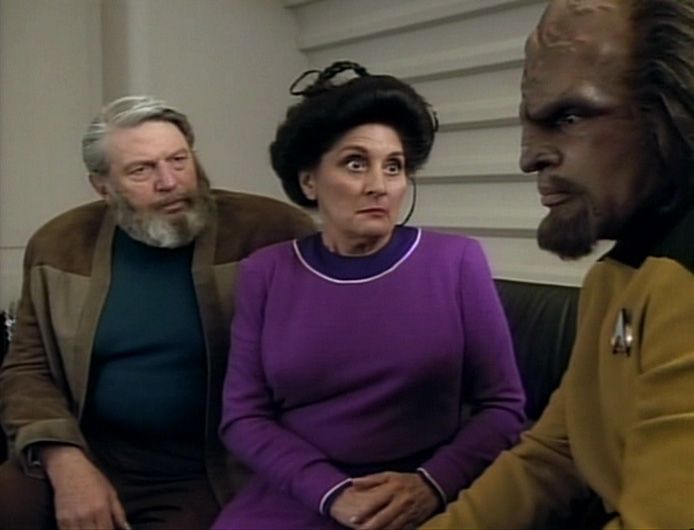 Images Source: TrekCore
What I see differently:
I love the awkwardness of Worf with his foster parents, how he denies putting on weight or doesn't want to show them around. I remember at the time being floored by the fact that Sergey and Helena Rozhenko were so different that I expected, especially because I thought they were Russian (although it's noted they are from Belarus) and although that's a good fit for Worf they was no inkling of it prior. I have no idea why that threw me off so much. Now I see them as rather endearing, and I really enjoyed the scene between his parents and Guinan in Ten-Forward.
I can't take credit for this because I just read it in the IMDB Trivia, but this episode is noted as they only episode with no scenes with Data. I guess he has no family on earth.
Great Quotes:
"Captain, you do need time. You cannot achieve complete recovery so quickly. And it's perfectly normal, after what you've been through, to spend a great deal of time trying to find yourself again."- Troi
"I always thought you needed a little humiliation. Or was it humility? Either would do." - Robert, to Jean-Luc Picard
"I have all the specs and diagrams at home!" - Sergey Rozhenko (Worf's foster father)
Left off at:
Wesley watches the heartfelt message from his dead father, Worf's parents manage to almost embarrass him one more time and Picard returns to The Enterprise one more step closer to being healed.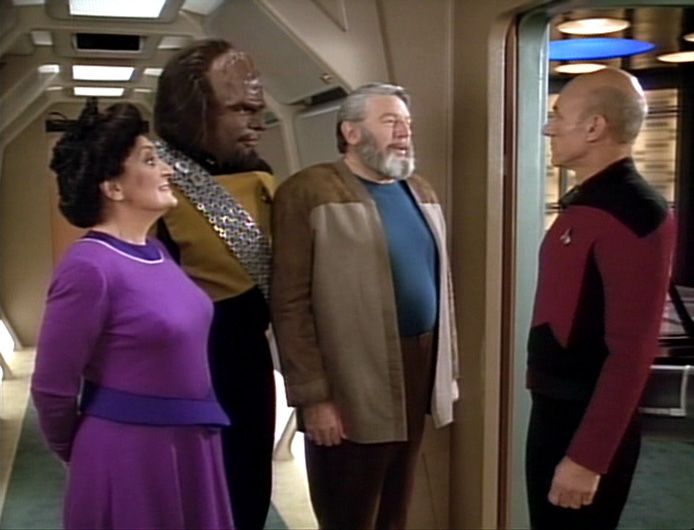 Images Source: TrekCore