ST:TNG 3.18 Alliegiance ~ Star Trek: The Next Generation Re-Watch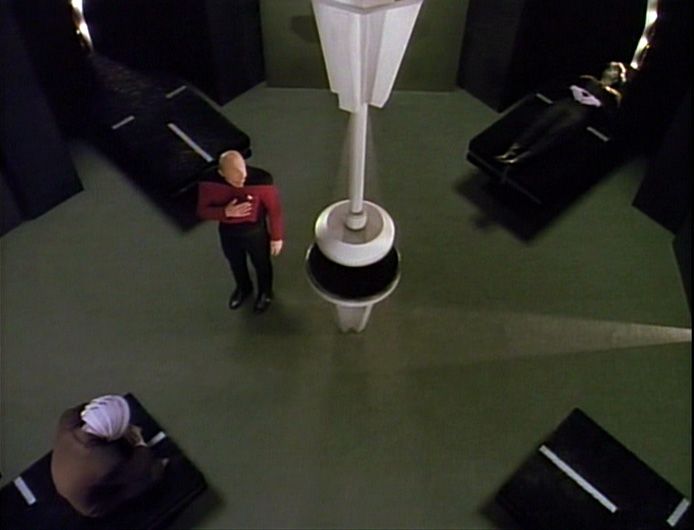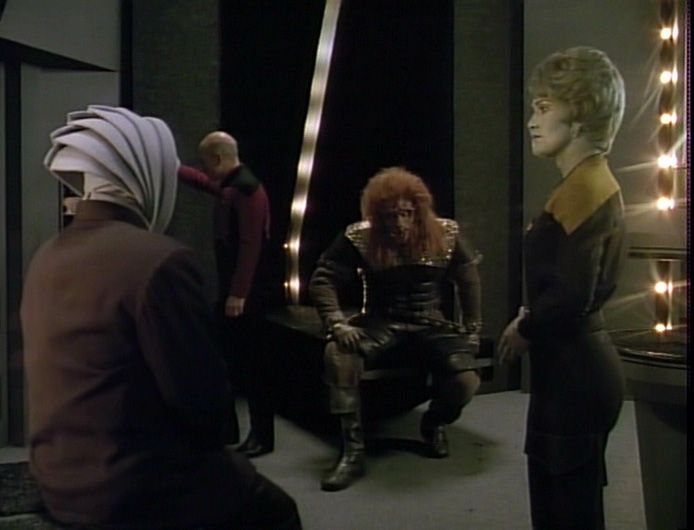 Images Source: TrekCore
Star Trek:
The Next Generation Re-Watch
continues with ...
Alliegiance
Season 3, Episode 18
Story:
Picard is abducted off The Enterprise and held captive along with a Bolian Starfleet cadet, a Mizarian and a Chalnoth named Esoqq. A replica is placed upon The Enterprise whose behaviour eventually raises suspicious among the crew.
Character Focus:
Picard is the clear focus here as he we see him in a completely non-Starfleet scenario while he is detained and interacting with the other captors. We also get a bit of fun with the replica Picard too, as the audience gets to look for things he does that are 'off'.
Most of the crew get great moments responding to the replica Picard, in particular Beverly whom he asks to dinner and gets pretty cozy with, as well as Riker and Troi who he both tests the boundaries of how fair they, and the crew, trusts him.
We also get to see the three other captives: Mitena Haro (the Bolian Starfleet cadat) and Kova Tholl (the Mizarian, who are a passive people) and Esoqq (the Chalnoth, a warrior race). Plus the aliens who aren't ever referred to by a name although they say they are all identical and telepathic which is why they are studying other races concept of leadership.
What I remembered about this episode:
I remember mostly the abduction aspects of this episode, in particular that Picard is the one what figures it out. But that was about if for specifics, I completely forgot the whole replica thing.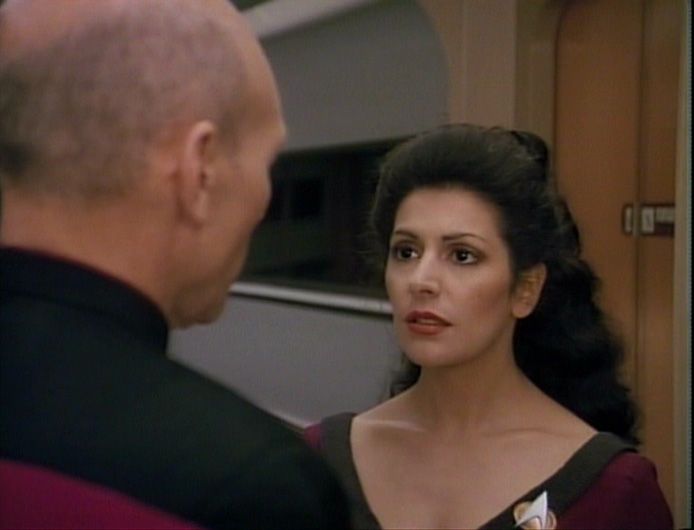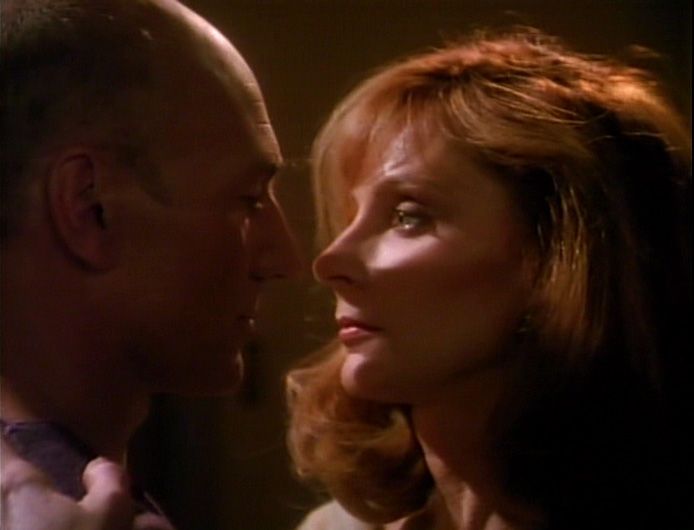 Images Source: TrekCore
What I noticed now, that I didn't notice then:
I could really see the nuance in Patrick Steward performance as the replica Picard, he's mostly the same and just ever so slightly off. I was really impressed with this. He totally is convincing as the mostly him but off, and asking questions or having behaviour just on the verge of off. I loved that Beverly pretty much calls him a player, and the awkwardness of the crew in response to him singing the drinking song. Plus there are small moments that are a little unnerving too. It's quite amazing episode for him.
What feels different now, than then:
The idea of the telepathic aliens abducting people to study them is awful! I cant' believe I didn't remember them.
I picked up on some of the replica Picard's odd behaviour quicker, like going to the poker game and asking Deanna how far she things the crews trust in him goes. That's pretty unnerving.
When the senior bridge crew get together to discuss Picard's odd behaviour, it feels just like a staff meeting at a regular workplace. In space.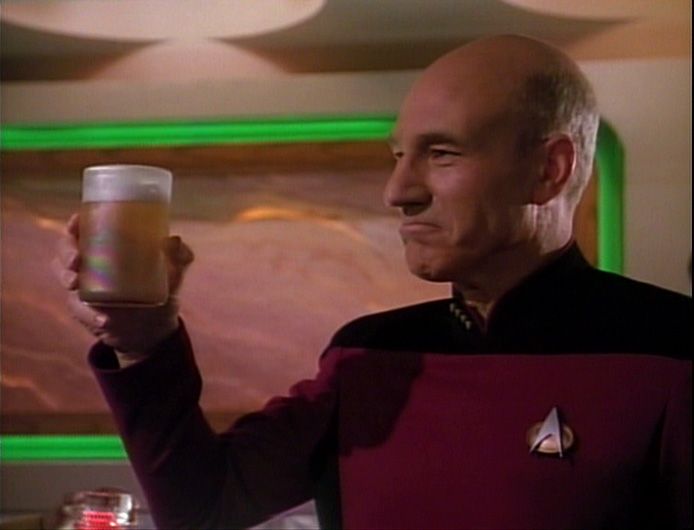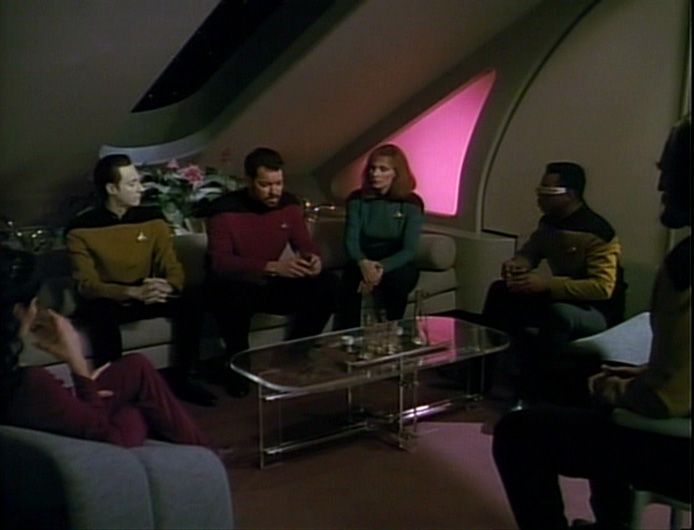 Images Source: TrekCore
What remained the same:
It's a very entertaining episode, and even though it's the 2-n-1 story of at the abduction site as well as on The Enterprise, it flows very well.
This is also one of those episodes where they start with the precursor of "we just finished this and are on our way to do that", and they never end up discussing or doing either. It derails right away into craziness.
What I see differently:
It's wild that the Mizarians philosophy of being a peaceful race when they choose non-resistance and therefore have been conquered many times, but that they chose to survive this way.
How the heck did Picard figure out the commonality among the 4 of them was their attitude to leadership? That's bananas! But I did love how he continued over and over again to insist that they work together and not turn against each other. Go Picard!
Great Quotes:
"I think this charade has gone far enough." - Picard
"We were merely... curious, we meant no harm." / "We did not, after all, injure you in any way" - Aliens
"Imprisonment is an injury, regardless of how you justify it."- Picard
Left off at:
Picard susses out that one of the captives is in fact their captor, but this taints the experiment and therefore he is returned to The Enterprise. To prove the point of imprisonment being wrong and to encourage the aliens to reconsider repeating their experiments, Picard signals to the crew to imprisons the aliens who freak out as they are claustrophobic, and then releases them.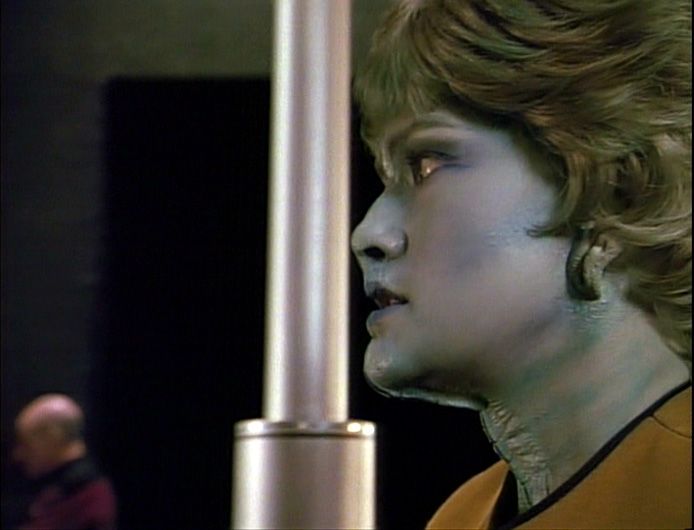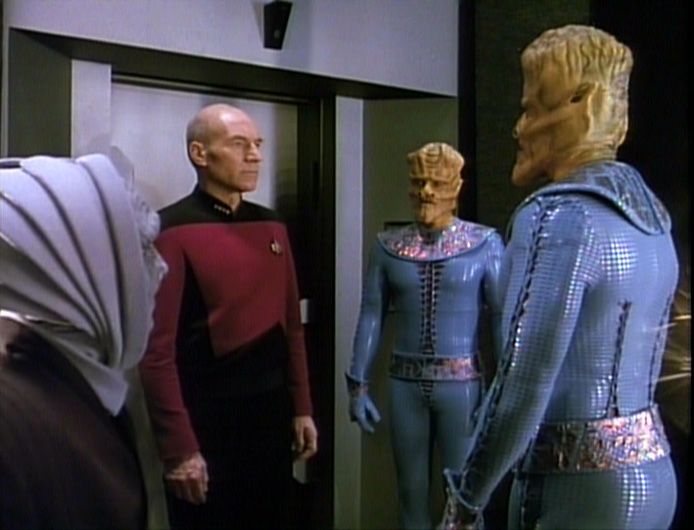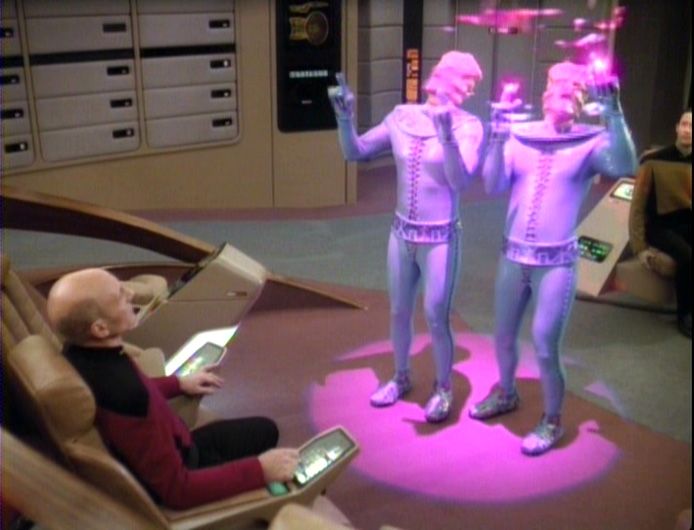 Images Source: TrekCore