Sister Summit Part I & II on Creative Living with Jamie
Sister Summit Goodness with my sisters Jamie & Suzie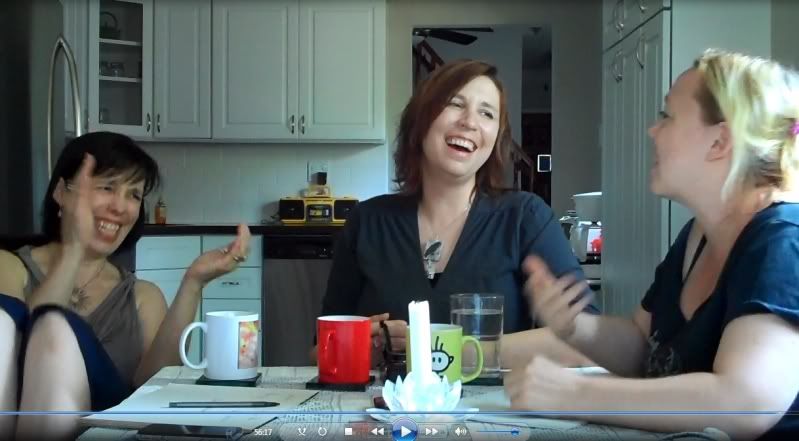 The Sisters Left to Right: Jamie of Jamie Ridler Studios, Suzie the Foodie & Me!
I'm still very much processing the
World Domination Summit
which happened this past weekend, and as I'm still wrapping my head and heart around those I thought I would share the awesomeness of the Sister Summit! Just a few short weeks ago (although they feel like forever ago!) my sister
Suzie
was in town and my sister
Jamie
invited us to be on her podcast Creative Living with Jamie and we chatted for so long it's actually in 2 parts!
The Sister Summit Part I
&
Part II
.
It's a sharing our creative lives, our stories, memories and insights. Listening to it retrospectively (and a few times as I edit the podcast!), it's amazing to hear that I was very much on the edge of a change that started to actually happen. It's totally crazy, and great, as sometimes voicing you thoughts truly puts you into motion. I didn't even realize it, but now it's totally happening.
If you are looking for some inspiration and sisterly goodness, listen to hear our creative insights, histories, realizations, blogging advice and stories. And of course lots of giggles.
Listen to the Sister Summit:
Part I
and
Part II
over at
Jamie Ridler Studios
on the
Creative Living with Jamie Podcast
(
subscribe here
for creative inspiration every week!).
Want to see more sister awesomeness? You can also see us share a picture each over at
Under the Willow Tree: The Ridler's Drinking Tea
.