List of Speakers & Workshop Leaders from World Domination Summit 2012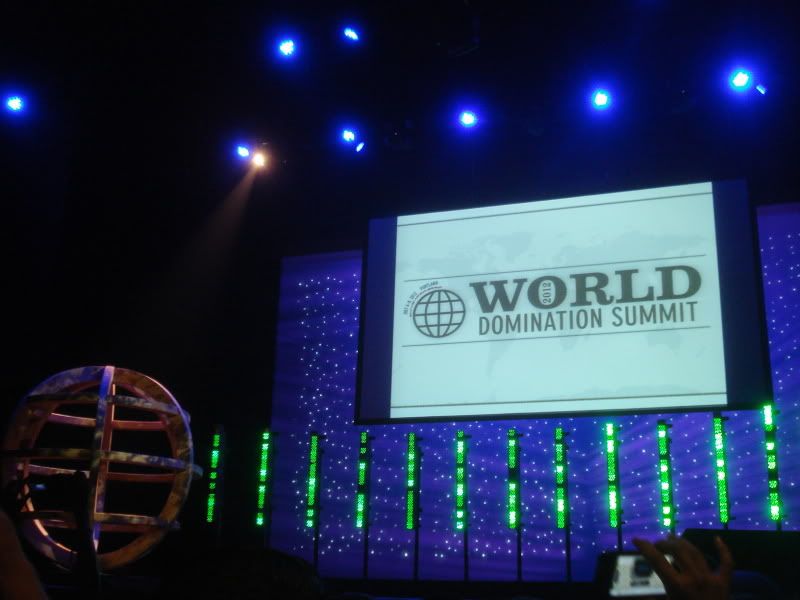 I'm still processing the experience of
WDS 2012
which was full of inspiration, awesome people and amazing moments. There is so much I want to share, but my brain and heart are so full that I need to do something streamlined and productive that anchored the experience, which made me think it would be great to create a click-friendly resource of all the speakers and workshop leaders to that everyone can find them in one easy place. I know one of the things I found the most challenging of the WDS process is having to choose just 4 of the amazing workshops available, so I can't wait to dive in to see more about lots of the awesome speakers.
The list is organized by day, with mainstage speakers, then groups on the mainstage and then workshops (which are alphabetical by the last name of the workshop leader).
List of Speakers & Workshop Leaders from World Domination Summit 2012
Chris Guillebeau
-
World Domination Summit
Founder
SATURDAY JULY 7, 2012
Saturday July 7, 2012 Speakers
Brené Brown
on vulnerability, the call to be uncool and belonging vs fitting in
Scott Harrison of Charity Water
Susan Cain
, author of Quiet: The Power of Introverts; (talk with
Jonathan Fields
)
Scott Belsky
, author of
Making Ideas Happen
$100 Startup Forum
Pamela Slim
, moderator
Chris Guillebeau,
author of The $100 Start Up
Gary Leff,
MilePoint.com
Jen Adrion,
These Are Things Wall
Benny Lewis,
Fluent in 3 Months
Emily Cavalier,
Midnight Brunch
Michael Hanna,
Mattress Lot
Saturday July 7, 2012 2PM Workshop & Leaders
Sherold Barr
/
Ishita Gupta
: Get Unstuck: How to Use Fear and Adverstiy to Build a Remarkable Life
Cate Brubaker
: The Art and Science of Re-Entry After Being Abroad
James Clear
: Become a Better Photography in 60 Minutes
Marianne Elliott
: Unconventional Fitness: Yoga
Jodi Ettenberg
: The Hungry Nomad: How to Eat Cheaply and Safely Anywhere in the World
Matthew Gartland
: Indie Publishing Demystified: How Any Writer Can Prosper from the eBook Revolution
Derek Halpern
: How to Wring Results from Your Blog
Josh Kaufman
: The Personal MBA: Make More Money, Get More Done, Have More Fun
Danielle LaPorte
: Live Fire Starter Session
Owen Marcus
/
Ken Solin
: Create a Micro-Community for World Domination
The Minimalists
: Millburn / Nicodemus / Becker - Minimalism is Changing the Entrepreneurial Landscape
Cal Newport
: Crafting a Remarkable Career
Angela Perkins: Unconventional Philanthropy: Stop Wasting Your Time and Start Making a Real Difference - need link!
Pace Smith / Kyeli Smith
: Why Your Dreams Aren't Enough to Change the World (And What You're Missing)
Jaime Tardy
: How Millionaires Start Their Businesses
Saturday July 7, 2012 3PM Workshop & Leaders
Scott Belsky
: The Future of Work: A Conversation with Scott Belsky
Sophia Bera
: Financial Planning for the Gen Y Taught by Gen Y
Gregory Berg
: Ready for Prime Time? Creating Your Own Podcast or Online Radio Show
Becca Borawski
/
Cody Limbaugh
: Unconventional Fitness: CrossFit
Brené Brown
: A Conversation with Brené Brown
Mike Bruny
: The New Art of Conference Networking: #Hashtags to Homies
Susannah Conway
: Writing from the Heart
Jonathan Fields
: Mindset is the New Killer App
David Fugate
: Book Concepts That Sell
Matt Kepnes
: How to Travel First Class on an Economy Budget
Benny Lewis
: Speak a Foreigh Language Fluently in 3 Months
Nathalie Lussier
: The Female Advantage: How Women in Business & Technology Will Change Your World
Nicholas Reese
: Rapid Fire Strategy Sessions for the Bootstrapping Entrepreneur
Joel Runyon
: Do Something. Do Anything.
Kate Swoboda
: Entrepreneurs: Stop Letting Overwhelm Kick Your Ass
Andrea Warner
: Find Freelance Jobs Online & Work From Anywhere
SUNDAY JULY 8, 2012
Sunday July 8, 2012 Speakers
Chris Brogan
Daniel Noll & Audrey Scott
Cal Newport
J.D. Roth
Attendee Stories Forum
Brandon Sutton,
Kids of the Gulf

Nicole
, a new and enthusiastic long distance runner
Jenny Blake,
Life After Collage.org
Mike Ambassador Bruny
, on giving back to those who gave to you
Penelope Dodd,
The Produce to the People
sharing produce to communities in need in Northwest Tasmania
Nate Damm,
walked across the United States
Hung,
World Traveller/Photographer
Adam Baker
, documentary filmmaker of
I'm Fine, Thanks
Stephanie,
Gave $10 a day someone who could make a difference or use it for good
Chantelle,
Doing it in a Dress
Rasheed, balloon artist (need link)
Amanda, got an accountability buddy at WDS last year & now are working together (need link)
Michelle Ward,
When I Grow Up Coach
Sunday July 8, 2012 2PM Workshop & Leaders
Steve Kamb
/
Marvin & Josephine Abisia
: Travel Hacking Academy for Beginners
Jill Allen
: Unconventional Fitness: Yoga
Chris Brogan
: A Conversation with Chris Brogan
Abraham Cajudo
: Campaign Wishes and Kickstarter Dreams: How I Learned to Love Crowdfunding
Janice Campbell
: How to Create Multiple Streams of Income in a One-Person Business
Scott Dinsmore
: How to Connect with Anyone
Amanda Farough
You Website Sucks (And You're Awesome)
Scott Harrison
: A Conversation with Scott Harrison
Clay Hebert
: No Excuses - From Idea to Laund - How to Validate, Position, Market, & Ship
Danielle LaPorte
: Live Fire Starter Session
Jennifer Lee
: The Right Brain Business Plan: Turn Passion into Profit
Cynthia Morris
: Write Your Book Now: Kick Fear to the Curb with a Simple Content Map
Sarah Peck
: How to Win at Crafting Narratives
Josh Schwartzman
: Fail Fast: Test Your Idea in 60 Minutes
Pam Slim
: 13 Ways to Inspire Your Audience
Stephanie Zito
: Intro for World Changers
Sunday July 8, 2012 3PM Workshop & Leaders
Steve Kamb
/
Marvin & Josephine Abisia
: Advanced Travel Hacking Academy
Corbett Barr
: Instant Idea Evaluation
Jenny Blake
/
Kyle Durand
: Ignorance is Not Bliss
Jonathan Fields
: The 10 Commandments of Epic Business
David Fugate
: Ask the Literary Agent
Tara Gentile
: Reclaim Wealth: Make the World Richer
Josh Kaufman
: The Art and Science of Rapid Skill Acquistion
Nick Krasner
: How to Operate as a Psychological Surgeon
Kate O'Brien: Cultivating Unconventional Kids - need link
Christina Rasmussen
: Your Loss is Your Launch Pad
Emelie Rota
: Sex, Money, and Politics - Why Forbidden Fruit Holds the Key to a Sustainable Future
Julia Roy
: Less is More: Simple Productivity Hacks
Andrea Scher
: Mondo Beyondo Meetup: What are Your Superpowers?
Maneesh Sethi
: Digital Nomading for Fun & Profit
Colleen Wainwright
: What I Did on My Summer Vacation: The 50-for-50 Campaign
Erick Widman
: How to Have the Best Year of Your Life by Volunteering and Travelling Overseas
I hope the link list is a helpful resource for all. I had a hard time keeping focus while researching as there is so much great content and interesting articles on the sites. I couldn't find everyone though, so if you know the links of a 'need link' person above, or if that person is you and somewhere else is your home base, please feel free to email me at planetshannon at gmail dot com.