Mega-List Update - The First of the Completes!
I am so exited to share that 2 of the items on my lists are completes!
Complete: 109. Watch Fringe Season 2 & 3
How I did this through the packed summer of the unexpected move and that crazy rush turn around on Season 3 which barely had time between DVD release and new episodes - and that was in and around TIFF. Wow. no idea how I did that. But I did! I'm not all caught up on Fringe and
Suzie
& I can podcast through Season 4 over at
Hexed: Sisterhood of the Supernatural
. Big thank you to
Suzie
& My Mom for buying me these seasons on DVD for my birthday this year!
Complete: Rewatch all TV I own on DVD - Supernatural
This one has been an attempted-annual-summer tradition for a few years. I started watching Supernatural when it first came out but didn't like the gender stuff (which it's still not great at...), and then gave it another try again in 2009 when it's first four seasons went into syndication on
Dusk.tv
(then Scream), and almost caught up on Season 4 to watch Season 5 live but just missed it and had a bit of a cross over. Then in 2010 I tried to do this again and I got almost through season 4 but not 5 when a
car ran into the house I was living in
. So, no luck there. But this year even with the move I made it through all 5 seasons I have DVD and also re-watched Season 6 before it hit DVD. I really love this show, and the fact that it usually has a monster of the week + season arc makes it highly rewatchable. It also refers back to it's own lore over and over which again, merits enjoyable rewatching. But it's the sibling story of Sam & Dean that keeps me coming back for more. This is another one I chat about regularly with my sister
Suzie
over at
Hexed: Sisterhood of the Supernatural
, we are talking about Season 7 right now but it was was one of the first shows we ever discussed. And if it goes into and 8th season in 2012 I will try to re-watch them all (again) next summer. It's tradition!
Progress on: Watch Stargate SG-1
Still plugging through and I'm into Season 4 (of 10) now with a few of Season 1 to catch up on . missed a few episodes during TIFF and a one of on the odd occasion. Usually I watch it while I work out, and although it's not super sticking with me. I also realized that the combination of military team + lots of historical-centric story lines is exact reason I didn't watch it in the first place as neither are terribly appealing. Yet, every time I think about giving it a miss an awesome episode comes out. So I'm going to keep at it.
Progress on: 28. See a film in each one of the 24 theatres at
AMC Yonge & Dundas 24
TIFF had AMC Yonge & Dundas as one of their venues again this year which led to lots of film watching in oddly the same theatres:
AMC 2:
The Raid
,
388 Arletta Avenue
and
Arirang
AMC 7 (ETX):
Fable of the Fish / Isda
and
Livid / Livide
Have to say, it was slightly strange to see the Filipino family drama
Fable of the Fish / Isda
in the crazy super huge mega pixaled ETX theatre. It was cool, but just not used to seeing non-action films there!
This has me at seeing films in 4/24 theatres. Not bad!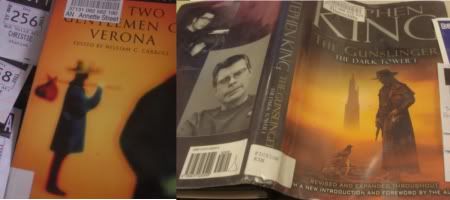 Progress Made On:
127. Read all the novels of Stephen King:
2 down, Many to go!
Read
The Gunslinger
which is the first of many in The Dark Tower series. Pretty dark, but pretty cool. Still not totally sure on the world, or how it works but it's definitely a western with threads in both supernatural and post apocalyptic woven in. I don't totally love the characters being iconic western vein of distanced and cold, but I'm curious about the story and the world and how it works. Will definitely continue to the next one.
128. Read & see performance/film of all the plays of William Shakespeare:
1 of 38 or 40 plays read
I read
The Two Gentlemen of Verona
, but honestly I didn't retain much from it. I remember a ring. And a woman. And a confidant. That's about it. I assume there were 2 gentlemen, but I don't remember them. A buddy relayed that the normal tradition is to watch the plays first, and then read which I'm considering but I'm worried that first watch will hold super strong in my head and one of the things I love about Shakespeare (or any play), is the countless possible different interpretations. I'm not sure if I'll switch to watching first then reading, but the good thing is with so many titles to get through I have the opportunity to likely test both methods to see which one I like best. I also was going to try to read them chronologically but I think I'll try Coriolanus next as it has the upcoming film adaptation Ralph Fiennes. I might actually own that one. Although finding it .. that will be the challenge.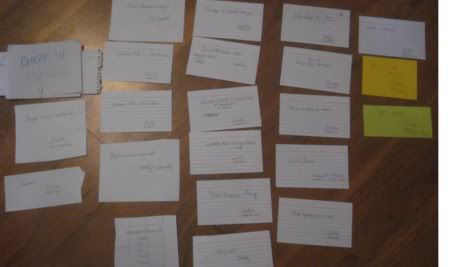 Above: index cards that are my regular Sunday to do's. Yes, that is a lot of to do's!
Progress on: 79. Create/use a to do system that works for me
I've gone back to using a tickler system (from the
Getting Things Done book by David Allen
), which really works for me as I have lots of tasks that repeat, sometimes on regular intervals, sometimes not and this system allows for that flexibility. I also modified it a bit and actually carry my to dos of the day with me while I'm out and about and can re-file them when I get home. I don't always get everything done, but it's an easier way to be able to figure out what to do and what to leave especially since some things can wait a day, and some can't. I feel greatly empowered by knowing what I've done, what is left to get done and the best thing really is a sense of relief that I'm aware and in control of what I do. There is no niggling about the back of my brain wondering if I've forgotten something, and that is a huge relief. I've been using the system for several weeks now and it's a daily practice that is rally working for me. Hmm, because this is a perpetual thing, it's hard to say it's a 'complete' but it might be. I think I'll give it a few more weeks, maybe until the year and it's still sticking I'll says it's complete.
I have realized though that this system doesn't work (for me) as a Create/use an idea capturing system that works for me (#78.), but I'm hoping to find/use/implement one of those very soon.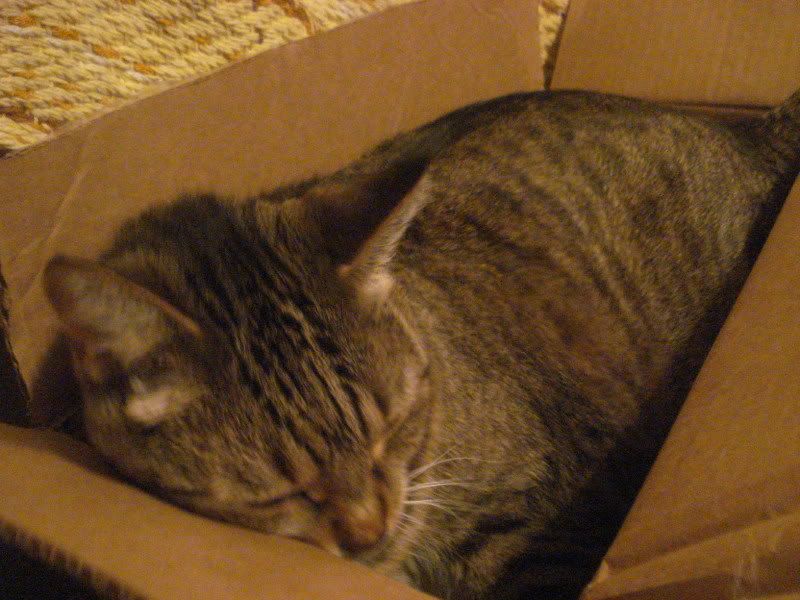 And I can't help but again end on a cute cat picture.
Again.