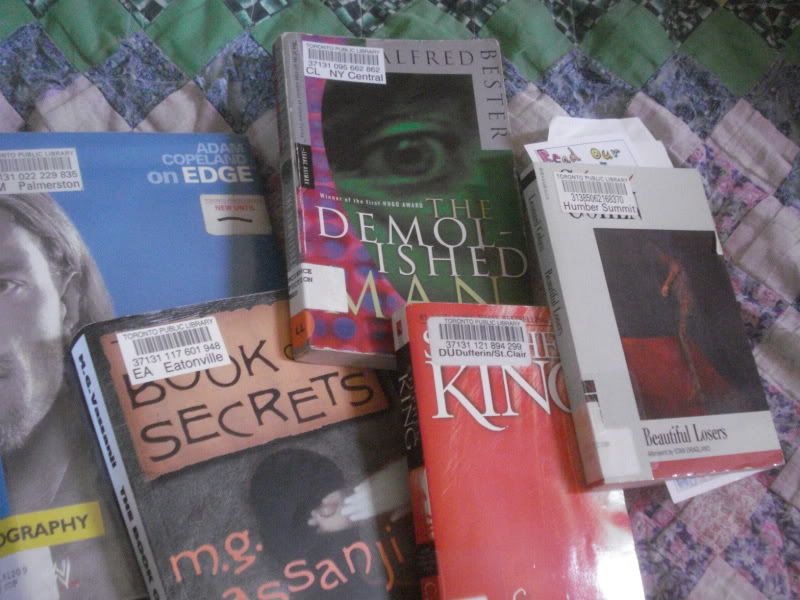 Library Loot recently had lots of Mega-List goodness in it!
Mega-List Update
Been a busy past 2 weeks and I'm made some progress on several of the Mega-List items. Been lax-ing on word collection as I'm still finessing my general idea collection system(s), but I have been following my nose when I find new words and trying to always be clear and use the correct words for things. But let's look at what I did do, as opposed to what I didn't.
28. See a film in each one of the 24 theatres at AMC Yonge & Dundas 24
I saw
The Help
in #3, which brings me to 3/24 theatres with no repeats (yet!). #3 is a mid-sized theatre and I've seen many films in that one especially
Cinefranco in 2010
and several showings of
The Wild Hunt
. I don't know why I remember that.
33. Interview 20 directors / 34. Interview 20 actors
This was so exciting, not long after my original posting of the Mega-List I got and email asking if I would be interested in interviewing director André Øvredal & actor Glenn Tosterud on their film
Trollhunter
, a Norwegian documentary-style monster movie. I said HELL YA! Well, I said something a little more professional, but when I got the email I did a big happy dance and said "HELL YA!" It was great to chat with the guys, and I'm impressed I managed to pull off a long-distance, recorded call to the UK with 2 awesome guys about their films. I even did my best to speak a little Norwegian, I hope that went over well. You can
read
or
listen
to the interview, and I highly recommend checking out the film (see more info over at the film review). I interviewed them together so I guess that makes it feel like this counts as 1 interview. Woot!
109. Watch Fringe Season 2 & 3
I'm well into Season 2 of Fringe and although it's not as arc-y or as tight as Season 1 I'm still really enjoying it. Love the characters BIG TIME. I can't wait to dive into more and every day I'm think to myself "Do I have time to watch some Fringe?" I've done some predictions and ramblings of the show over at
Hexed: Sisterhood of the Supernatural
, but I am working really hard to avoid any spoilers. I should finish Season 2 sometime with week and than have to wait until September for Season 3, which is coming my way thanks to my Mom who got it for me for my birthday this summer.
113. Watch Stargate SG-1
I've been continuing to work though Season 1 & 2 con-currently. It's still not really grabbing me, although I do know the characters better and there was one mid-season 2 episode that was really entertaining. I'll stick with it.
125. Rewatch all TV I own on DVD – Supernatural
Still working through Season 4, watching Ep 19 Jump the Shark at this very moment and should be one to Season 5 sometime this week. Trick will be getting Season 6 in before the new season starts in late September.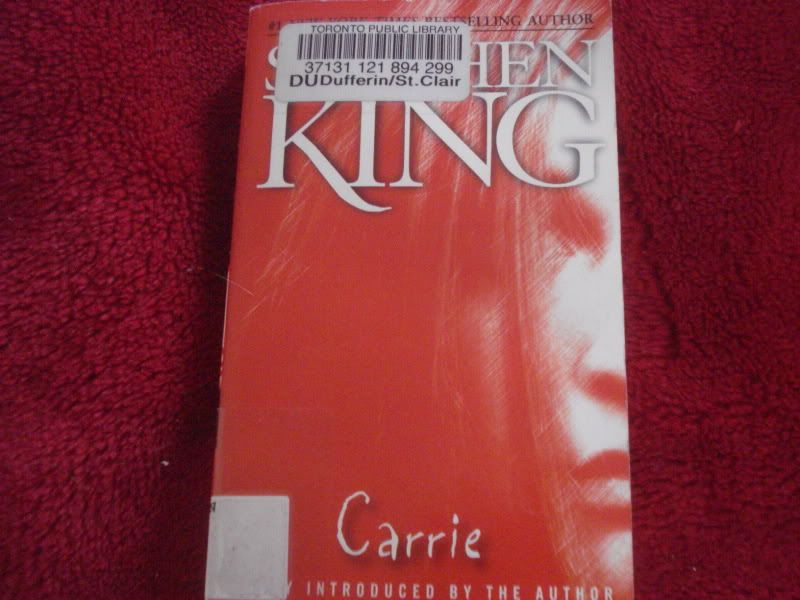 127. Read all the novels of Stephen King
Actually have a complete – I read Carrie. Man, that's a messed up book. Very dark, very heartbreaking and a unique storytelling style that I enjoyed. And I see why the lots of the books are in order but not noted as a series, because there was a small character whose name I recognized from a totally different work by Stephen King which makes me happy with my decision to read these in chronological order. I'm planning on reading about 54 of his books, mostly novels, some non-fiction and maybe some collections. I'll do a separate list of the titles at some point but right now I'm counting is as One Down, Lots to Go!
I'm made some progress on...
57. Write think pieces, or let them go
I've been working on several think pieces, although I haven't posted any yet I've worked through and written out some ideas & outlines which is a step up from just longingly thinking about it. Also had a great moment where I experienced, saw, felt and re-created telling something powerful through a story, which although I always 'got' conceptually I didn't really 'feel' before. It felt like a should, that that's the way it 'should' work, and people say you 'should' do it - but no, it's true. Telling through story isn't a should, it's just plain WORKS.
62. Create a habit of always proofreading posts & newsletters before sending them out
I haven't totally stuck to this but I have been more reliable & conscientious about it.
78. Create/use an idea capturing system that works for me
Ugh, not having this in place is driving me bananas. I started using a tickler again (Getting Things Done system), but that's more of the day-to-day and I haven't been keeping up to date. It's more for like 'write an article about this' or 'look into the relationship between this and this' or 'is the trend of X still going strong, or is it time to move on'. I don't know where to put these ideas in a way where I can get them later. Paper is to hard to find the idea, and I like stuff on the computer but I don't like having to transfer it there when I get home. Maybe there is an android app that I can sync on my computer... Hmm.
87. Do 100 push ups in a row
As a starting point I did a cold-try of where I'm at which was 13 a few days ago. Today I managed 15. My personal best ever was 50 and my best regular number was 30. 13 is my regular not-working-out-for-a-while number, so it makes sense that I started there.
Late Addition
I'm also adding to the To Watch list is Terminator: The Sarah Connor Chronicles: Season 1 & 2 as I own them but have never seen it and somehow I missed them when I saw writing the original list. Their spine looks like Supernatural, I suppose. It's
going to be #137
but I'm putting it with the TV stuff.
Lots of learning, reading, watching and saying HELL YA, which works for me. I hope there are more opportunities to say HELL YA to very soon.