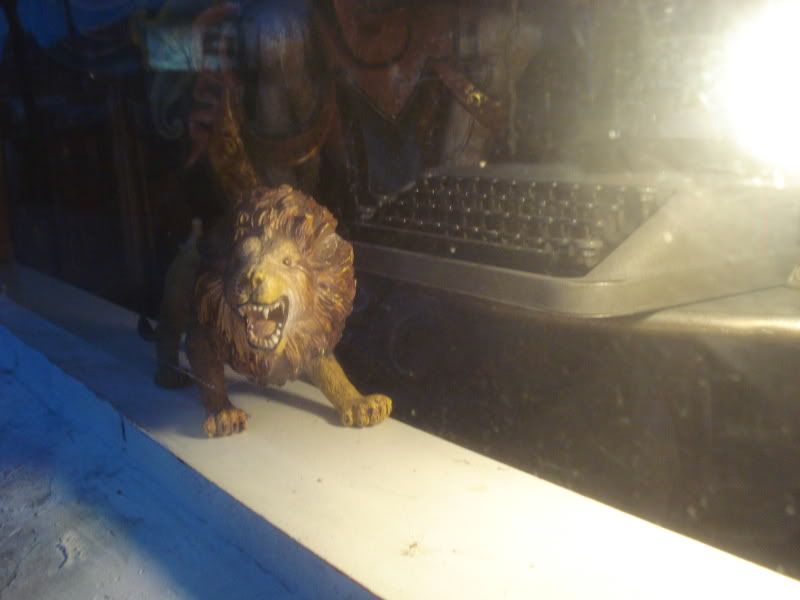 **********UPDATE
: Sadly I have to call this challenge to a close. Some of the items are no longer possible for me and others are not as relevant as they used to be, and then of course there are others I will continue in the same of different ways. I'm trying to think of it as an ever-changing experiment, but as someone who often resists change it's not the greatest analogy. Even so, it is the truth! Thanks for joining in the journey so far and we'll just have to see what it may turn into.
********************
It's time for a new list. A big list. A huge list. Or, as I finally decided to call it, a Mega-List. I'm a huge fan of lists. Lists make things happen. They push you. Sometimes gracefully over time, and other times in awkward ugly duckling steps. Lists are a way of letting the world know what you want, what you are thinking about and what you are open to. Working through lists can bring clarity between what you think you are focused on, as opposed to what you are actually focused on. Lists also can pull energy towards you in a way that nothing else can. I like lists.
I'm no stranger to lists, and just last week I was thinking about my
101 Things in 1001 Days
that I did from 2006 to 2008 and how much it helped me hone in on the things I wanted to focus on, and a lot of things I eventually decided to let go. There were a lot of exciting adventures and many accomplishments along the way, and many informed the creation of my film site
Movie Moxie
. But since I completed that list, I haven't done a big, grand-scale, numerous, all incompassing to do list and ...I miss it. I'm feeling the pull again to take new adventures and challenges, and it just felt right to share the list and journey along the way.
It's a new challenge, a new mission and I'm open to it becoming bigger, better, brighter or bolder than currently imagined. I'm not giving this list an end date, but I do plan on revisiting it as a whole on a yearly basis in July. It's not a Bucket-List or and Before-I-Die list. It's not a must-do or a to-do list. It's a Mega-List. A BIG list of the BIG things I want to do, many involve multi-steps processes and some are entire projects unto themselves. I'm sure it will take many hours, miles, decisions and moments of luck, hope and courage to make it though. But I want to do them. It's my Mega-List.
1. Go to
Cannes
2. Go to
Fantasia
3. Go to
ActionFest
4. Go to
Stiges Film Festival
5. Go to
Dark Bridges Film Festival
6. Go to
VIFF
7. Go to
Sundance
8. Go to at least 1 film festival in New York
9. Go to a Film Festival in Australia
10. Go to a Film Festival in Asia
11. Go to a Film Festival in Africa
12. Go to a Film Festival in Europe
13. Go to a Film Festival in the UK
14. Go to a Festival from its first year
15. Be invited to a film festival
16. Be a juror at a film festival
17. Have a stay-at-home-film-festival
18. Write a film article or review in a print publication
19. See & Review every theatrical release for in 1 calendar year
20. Guest host/appear/be interviewed on 20 podcasts
21. Program something
22. Be on every theatrical distributor list in Toronto
23. Be on every DVD distributor list in Toronto
24. Be in an association, collective, community or group that feels right
25. Publish a book of reviews
26. Respond in the positive to an LA or NY film screening & attend it
27. Attend a red carpet event
28. See a film in each one of the 24 theatres at
AMC Yonge & Dundas 24
29. Go to a movie event at my local library
30. Create a 'the walk' film montage
31. Create list/montage of great dance moments in non-dance films
32. Make a short film
33. Interview 20 directors
34. Interview 20 actors
35. Mega-interview film project
36. Interview 20 bloggers
37. Interview 20 podcasters
38. Interview 20 film reviewers
39. Interview TV entertainment writers
40. Interview 20 interviewers
41. Interview a showrunner
42. Meet 20 film bloggers, podcasters, vloggers or writers around the world
43. Go to
Hal Con
with
Suzie
44. Visit my brother Jason
45. Go to
World Domination Summit 2012
46. Go on a cruise
47. Go on an all inclusive vacation
48. Write an updated About Me
49. Create an e-course
50. Create a how-to
51. Create a linked in account
52. Create a professional services page
53. Create a pink spoon item
54. Publish a collection of something written about film
55. Host something
56. Be on a live event
57. Write think pieces, or let them go
58. Claim writing or find a different medium to connect ideas to people
59. Do 20 guest pieces on other websites and assess if it's something I want to do
60. Get a gig writing about TV
61. Write personally to 20 people that have inspired me
62. Create a habit of always proofreading posts & newsletters before sending them out
63. Figure out feedburner
64. Figure out which podcast hosting provider option works for me
65. Get a podcasting rig I feel good about
66. Get a BluRay player
67. Figure out the Facebook fanpage energy
68. Get a new camera
69. Get a new recording video device
70. Have a tech budget & schedule for updating, upgrading and infusing
71. Do the Lottery Project
72. Have a postage budget
73. Be debt free
74. Have sustained income from entrepreneurial endeavours
75. Get new glasses
76. Make apartment perfect (home for everything to be away + cleaning regime)
77. List out all my weekly to do's, assess, prioritize/shift/let go
78. Create/use an idea capturing system that works for me
79. Create/use a to do system that works for me
80. Create/use a project management system that works for me
81. Take a martial arts class
82. Find a sport I love to play and play it
83. Find balance with food
84. Find a healthy treat that I enjoy and feels like a treat
85. Buy 7 (or 8) lbs, 10 lbs & 15 lbs weights
86. Create or find a good exercise regime
87. Do 100 push ups in a row
88. Get back to a regular running routine
89. Plot a running route in my new hood
90. Run a marathon
91. Find, read & work through a grammar book that works for me
92. Find, read & work through a writing book that works for me
93. Find, read & work through a marketing book that works for me
94. Find, read & work through a project management book that works for me
95. Track new words heard, where I heard them & their definition
96. Create a knitting how to course
97. Create a knited item with binary code as the inspiration
98. Learn how to do 10 different kinds of knots
99. Take a dance class
100. Be in a dance performance
101. Take part in a collective planned happy positive group event
102. See live theatre
103. Learn about Databases
104. Take a math class
105. Do Karaoke
106. Visit 20 spots in my neighbourhood
107. Watch Carnivale
108. Watch Charlie Jade
109.
Watch Fringe Season 2 & 3
(Summer/Fall 2011)
110. Watch Heroes
111. Watch Legend of the Seeker
112. Watch Smallville
113.
Watch Stargate SG-1
(July 2011 - May 2012)
137. Watch Terminator: The Sarah Connor Chronicles: Season 1 & 2
114. Watch Twin Peaks
115. Rewatch all TV I own on DVD - Alien Nation
116. Rewatch all TV I own on DVD - Angel
117. Rewatch all TV I own on DVD - Babylon 5
118. Rewatch all TV I own on DVD - Battlestar Gallactica
119. Rewatch all TV I own on DVD - Buffy
120. Rewatch all TV I own on DVD - Farscape
121. Rewatch all TV I own on DVD - Firefly
122. Rewatch all TV I own on DVD - Lost
123.
Rewatch all TV I own on DVD - Moonlight
(Fall 2011)
124. Rewatch all TV I own on DVD - Roswell
125.
Rewatch all TV I own on DVD - Supernatural
(Summer 2011)
126. Rewatch all TV I own on DVD - The X-Files (
in process
)
127. Read all the novels of Stephen King
128.
Read & see performance/film of all the plays of William Shakespeare
(
in process
)
129. Find a comprehensive list of Canadian Lit Books & read them
130. Read all the winners of the Nebula Award for Best Novel
131. Read all the winners of the Hugo Award for Best Novel
132. Read all the Giller Prize Winners
133. Find a comprehensive list of essential films
134. Watch any not seen films from #133, noting the signifigance & my own reaction
135. Redesign/update Movie Moxie
136. Read all the Greek Myths