Newly Knitting - Fingerless Mitts 'Dashing'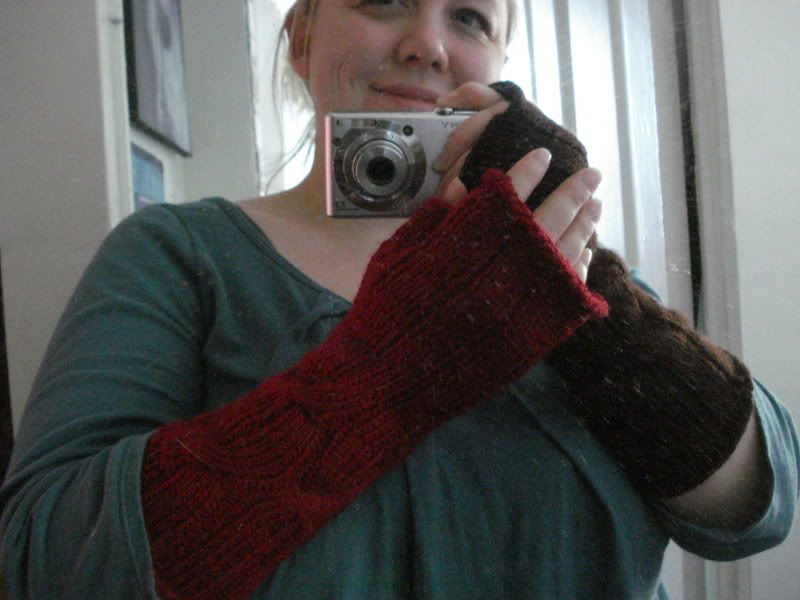 I finished these last night (and they already have cat hair on them!). They are fingerless mitts called Dashing from
Knitty
. You can get the
pattern here
.
I picked the pattern well over a year ago but had just gotten comfortable at that time with knitting in the round so in hindsight I'm glad I waiting. It takes a few skills I hadn't tried at that time, namely cables and making a thumb. Both were way easier than I had expected.
When I try a new pattern, I always follow the instructions and make no alterations (just like baking). I did a test swatch for the gauge and it looked ok. The pattern is actually a mens pattern, but I find it snug on the lower arm so maybe it is for skinny boys! It's really cook how the cables cinch at the wrist for a nice fitted effect. I did find the length a bit long working after the cables to the thumb opening. If I did it again I might revise that part. But, I loved the K4 P1 rib pattern - I think it's beautiful and it's super easy to remember intuitively.
Overall I'm thrilled. It's my 2nd try at cables and first time doing a thumb - both of which were fine. The pattern is really clear and I realize now I picked up stitches in the wrong way for the thumb but you can't tell.
I went with different colours as that is what I had that matched the pattern. I knew each ball wouldn't have been enough for a full mitt, so I just did one of each.
Here are some more pics: