Knitting Challenge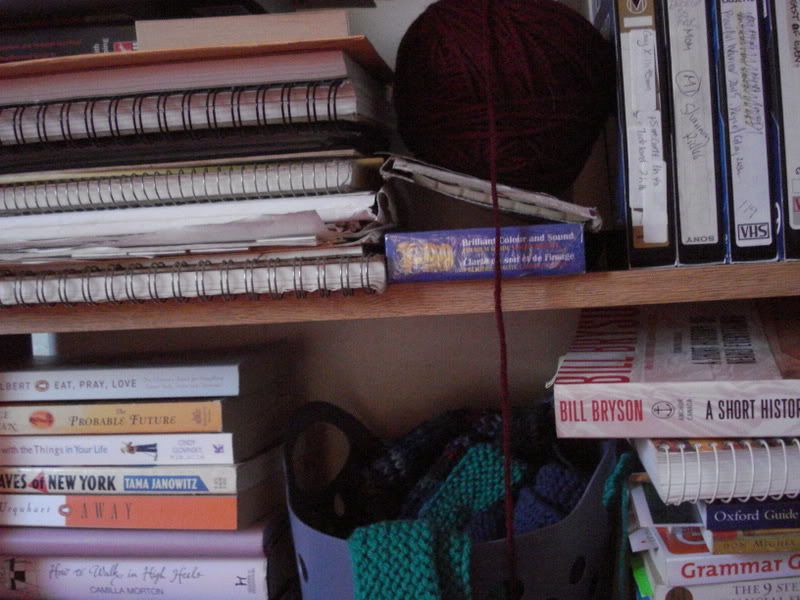 It's been two years (almost to the day) from when
I learned how to knit
. I had no idea how much of an impact this would be!
Jamie
& I took a 2 session learn to knit a scarf class and since then I've always had at least one project on the go. I've learned to knit in the round, change colours, read a pattern, make a swatch, do cables and made many many scarves. There always seems to be more to learn, and more projects I want to do. Some are 'just cuz', some are to learn more and some are 'ok, I really have to finish that one'. To keep track of what I want to do I've decided to create a list and work through them there.
Knitting Challenge List:
1. Finish all current projects (multicoloured legwarmers,
pink socks
, bag to be constructed, burgundy hat)
2. Sort Yarn by weight
3. Pick Pattern for Garment. Bring to Store. Buy yarn, any notions/special items required. Create Garment.
4. Make mitts or gloves
5. Try new scarf pattern
6. Try new sock pattern
7. Try new hat pattern
8. Try something from the 'misc' patterns pile
9. Try a new shrug/poncho pattern
10. Try a new bag pattern
11. Knit a sweater
12. Knit pants, skirt or dress
13. Learn Buttonholes
14. Create a pattern
15. Learn how to read a colour pattern
16. Learn how to read a stitch pattern
17. Find homes for the 4 scarves I've made which are sitting in my inbox
18. Learn how to make buttonholes
19. Learn how to make an i cord
20. Buy a knitting book that I really like