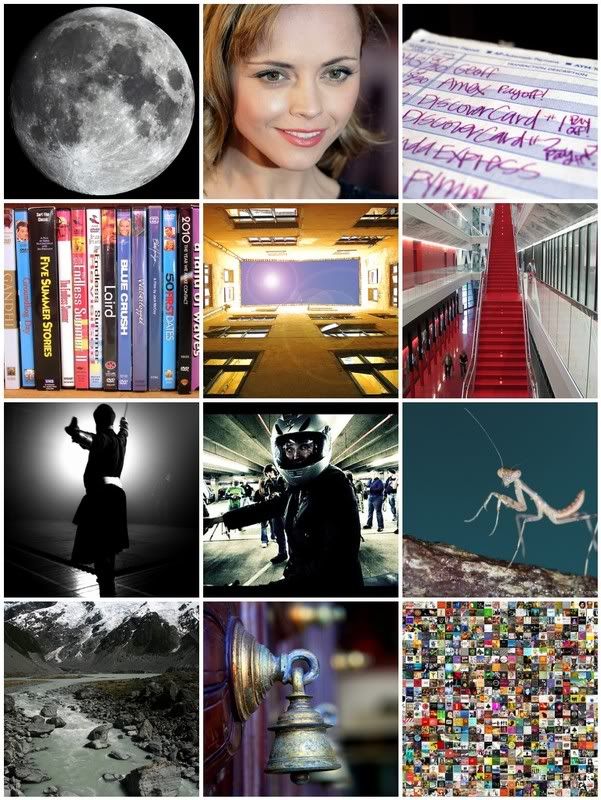 , 2.
Christina Ricci
, 3.
DEBT FREE AT AGE 28!!
, 4.
Pieces of My Life (Surf Films)
, 5.
let the sun shine in....
, 6.
tschumi
, 7.
Sant Sipahi
, 8.
strobist flickrazzi
, 9.
Yippie-aye-aaa,♫ yippie-aye-ooh...♫ a praying mantis nymph went out on a raining and windy day...♫♫
, 10.
Mt Sefton, New Zealand
, 11.
Welcome to the world of full frame
, 12.
Covers (circa August '06)
Mosaic Fun! I found this Welcome to 2009 Mosaic meme over at
Danette's
. Want to play along? You sure can! Here is how to create a New Year Mosaic Meme:
Below is a list of questions. Type your answer to each of the questions into
Flickr search
. Choose an image using only the first page that comes up, then copy and paste each of the URL's into the
mosaic maker
(adjust it to 3 by 4 or 4 by 3 to get 12).
Here are your New Year Mosaic Questions:
*It works best if your answers are short and powerful*
1. Looking back on 2008, what might the theme have been?
2. If 2008 was a movie, who would play you?
3. What was your greatest gift of 2008?
4. What is your New Year Resolution, or, what are you committing to this year?
5. If January could be represented by one song, what would it be?
6. What do you wish for your body in 2009?
7. Name one new thing you would love to try in the New Year.
8. What do you long for 2009 to bring?
9. If that happened, how would you feel?
10. Where would you love to vacation in 2009 if money were no object?
11. What would you like the theme of 2009 to be?
12. If 2009 was a book, and the title was 5 words or less, what might the title be?
Some of them had no option that really fit what I was going for visually... If I found one that worked thematically it worked for it but sometimes I had to tweak the search a bit. Zomg, it's not even Jan 1 and I cheated! heheh