Soul Coaching - Week One, Day One
So, I made a cuppa tea all ready to dive into Soul Coaching for Day One of the process. Oh course, I hadn't journaled yet about the prep so I went back and did that and picked out the daily type tasks and such because I actually had some time today and felt like I really wanted to land on the right foot here.
It was all going so great until I got to the daily affirmation:
"My evaluation of myself is not who I am"
Um. I'm confused. Who am I if not that? Someone else's evaluation (no thanks!)? Does this mean evaluating yourself is a waste of time because it doesn't mean anything? I really don't get it. The only thing I can think of is that it's a 'let go' mechanism if you self critisize too much? Perhaps, I'm in denial? Who knows! Maybe it will makes sense later today. Did I mention I'm not a fan of affirmations? Ah well, I said I would do this and I will! Marching on!
Ok, so now I've done the excercise for the day. In general, I'm going to the Level I but as I had a little more time today I did a combo of Level I and II by looking at the Level I Catagories (Health, Finances, Career, Relationships, Creativity, Spiritual) and writing about the current, my intention of the next 28 days, the goal and described the gap between current & goal (then becuase I'm crazy listmaker I re-wrote all the intentions over next 28 days as a 'to do' list). This process was very interesting! Here are some of the insights I had:
-I've met 2 of my goals! Why? Because I have no creativity or spirtuality goals (currently)
-Some of the catagories had tons of doable actions in them (health, relationships)
-Some catagories I knew the goal but had no idea how to get there (career) *this is one my big goals for the journey.
-I have bucket loads of stuff that isn't under these headers! This is because I went with Level I - and I'm ok with that. If I'm feeling ambitious I can add headers that would be meaningful (home, personal, fun).
That's Day 2 folks! I can wait to read other peoples posts! Thanks so much to all the comments so far - I really appreciate it!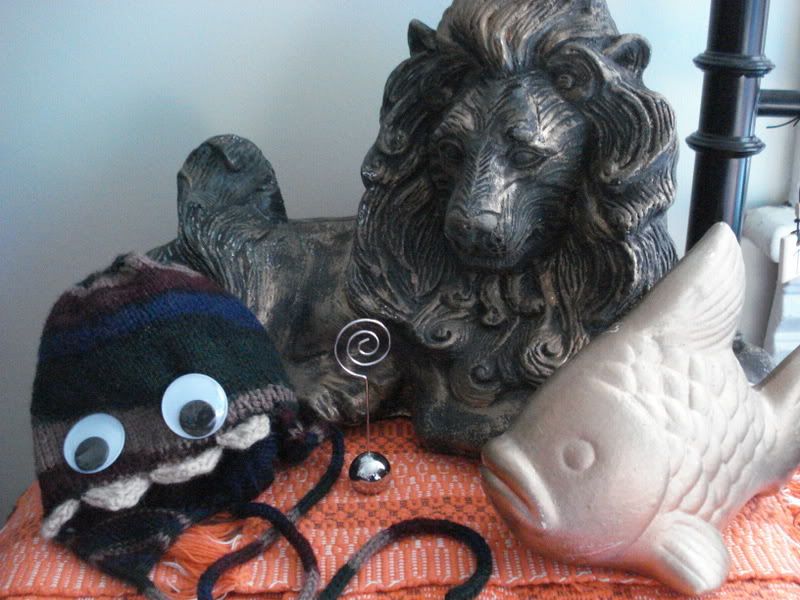 My Altar:
Lion for Fire
Fish for Water
Spiral metal thing for Air
Monster hat for Earth (if I can't laugh and have fun, I know I'm not grounded)
Want to know more about Soul Coaching through The Next Chapter? Check out
The Next Chapter website here
.