How I got from Red to Black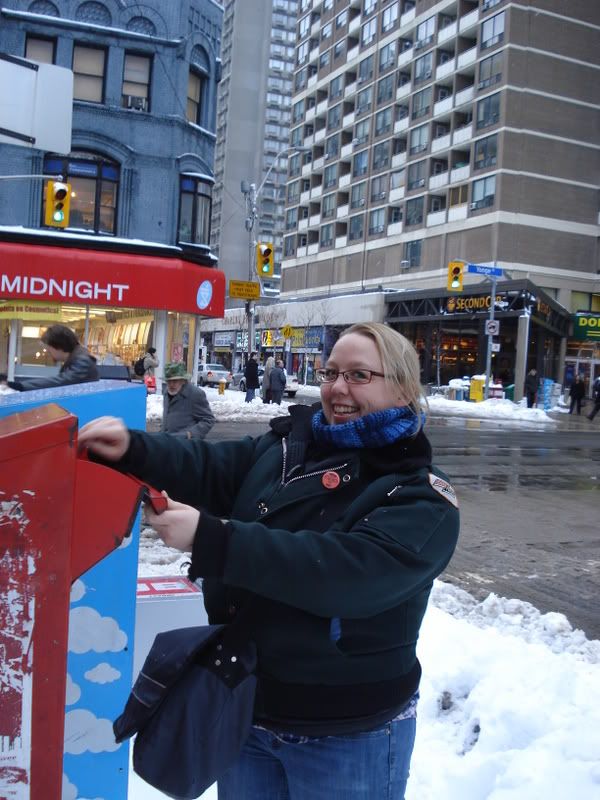 (mailing a cheque to OSAP circa Feb 08)
#20 on my
101 in 1001
is, or was: Pay off my debt RBCV, VMC, MC2, TDLoC, OSAP-Can/Ont, OSAP-Cdn -
DONE
This took 2 years and 2 months, and I went from roughly $12,000.00 in debt to $0.00.
This is a huge accomplishment for me. Not only to be done with the debt, but because of what the debt represented to me. A lot of the debt was tied to wedding expenses (I'm since
divorced
), student loans for which I ended up dropping out of school due to not being able to handle going, and a line of credit I borrowed against when I was underemployed or unemployed. All of those were my choices. Many of them I could have fought to get someone else to pay it or have some kind of relief on it but I didn't. My choices, good or bad, are mine to live with.
So, the big question is - how did I do it? I'll tell you!
After making many budgets, pouring over bills & bank statements, reading many books and even a tv show, (see list below) there really are only two things to consider when you are working with your money.
1) How much do you make
2) How much do you spend
The magic formula is to make more than you spend. If you aren't doing this already, there are two ways to change that:
1) Earn more money
2) Reduce your spending
THAT'S IT FOLKS.
It's so simple it's scary. It's so simple that you really do have the power to make it happen. The trick is, just because it's simple doesn't mean it's easy. For me, it took time and energy reading and learning on the subject of money, thinking about what money meant to me and overall what was important to me.
Things that helped me along the way:
I got a job that paid really well.

This kinda came outta nowhere, and boy do I thank my lucky stars. I got a temp gig where they ended up needed someone on a more permanent basis. There were just months between being in overdraft to my last five bucks, not being able to afford an apartment and getting calls from creditors to earning the most I had made in my life.
I moved somewhere less expensive.
Yes, moving costs money but over time this really paid off, and I like my new place a lot!
I made an active effort to pay off my debt.
Sounds like another no brainer eh? Well sometimes it was and sometimes it wasn't. Sometimes it felt yucky to say no to invitations to do fun things and go home and give that money to a credit card company.
I tracked my spending habits.
Sometimes we over estimate and sometimes we underestimate. It's worth it to check in and see is the phone bill always that much? Or do I use long distance more than I think? Do I never order a film on PPV? Do I really stick to my weekly food and spending budget? No? If not, why not? Am I allocating too little to these items, or did something special come up?
I faced the music.
I have some expenses that are pretty high and non negotiable. I don't like them but I have them. Better to just be real and budget for them than pretend otherwise.
I saved money as well.
I don't why this helped but it did. It seems illogical when being charged interest every month to save, but I am happy I did. It made it much more enjoyable to get through the holidays, helped me achieve many important goals over the past few years (like going to
TIFF
) and I couldn't have done that without saving.
I did spend money on things important to me.

If you are in this for the long haul, you can't scrimp all the time. I decided what would make the difference in my day to day life and added that to the mix. For me it was going out with my
sister
, going to the movies, and then some extra each week. I had to schedule things carefully and made sure I didn't have too much going on in one week so that I could stick to my budget. I actually still keep getting miffed a little about my new hobby of knitting because it's not in my budget to buy yarn! But I still find to get it here and there.
I added a 'Miscellaneous' amount to my monthly budget.
Sometimes unexpected (or expected) things come up. I added this so that I would have money for things like gifts and events, as well as the occasional tech-toy. If I didn't have anything to allocate it to in any given month, I added it to my savings.
I revised my budget and priorities.
Things change over time, so it's worth it to revisit the budget as a whole every once and a while.
Once you pay off one thing, add that monthly payment to the next debt.
Don't go thinking "woohoo, and extra $50 a month!". Nope... just roll it into the next thing.
Support from those around me.
I suck at taking help. But I did, so I want to acknowledge it because they deserve it! To both my sisters:
Jamie
&
Suzie
, my Mom and Jamie's husband Justin who have all been really supporting along the way from chatting to commenting to
Jamie
and her honey actually taking me in to their home, twice when I needed it. Thank you!
Info that rocks:
Suze Orman
:
The 9 Steps to Financial Freedom
,
The Money Book for the Young, Fabulous and Broke
The Wealthy Barber
by David Chilton
Gail Vaz-Oxlade
:
Til Debt Do s Part
Books that didn't work for me, but made me think nonetheless:
The Money Book
The Four Hour Work Week