Where the money goes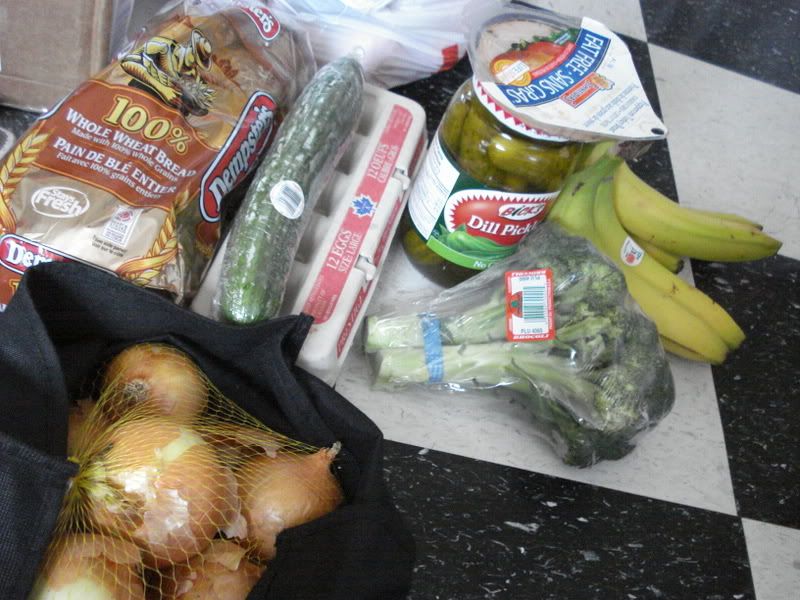 It's frugal week chez Shannon's. For a few combined factors including spending some of my food budget on things other than food (I admit it, I did it) and also because my freezer is chock full of stuff, either entire prepared meals, or ingredients (at least 3 baggies of '1/2 can of diced tomatoes') or side dishes. I bought my normal things for breakfast, work lunches and made sure I had some fresh veggies so it still felt like 'real' food but everything else will be from the huge stock in the freezer.
It was nice to buy so little for once as that means I picked up pickles! I usually never do because they are so heavy, but that was not a worry this week!
There were some really great sales this week that I did not about to pass up but I didn't have the cash today, but I will pick them up on payday which is before the sale is over. I love when cheese is on sale! I also caved a few times this week and bought snacks during the week. Hehe.
$0.36 tax
$0.77 2 broccoli *
$0.77 1 seedless cucumber *
$0.99 3 lb onions
$1.25 5 bananas
$1.35 milk
$1.50 chips
$1.97 Pickles *
$1.99 Whole Wheat Bread *
$2.59 12 eggs
$2.79 turkey slices
$3.27 roasted potatoes
$19.60 Total

* = item was on sale