Lists, Ideas, Goals - oh my!
Early this week I was feeling boastful that I got 16/18 things on my 'to do' list done by the end of the night. This was after getting home from work and it kept me busy for a good 5-6 hours. After the boastful feeling wore off I was like - woah, that was kind of a lot to ask myself to do.
So of course, it's perfectly logical to join
NaBloPoMo
and post every day through November, here and on my film blog
Movie Moxie
. And because there is a time parameter that makes me think of other parameters or seeing what I can do in such a fixed period of time. Also, it's something I can fall back on if I get writers block (not like that has happened to me..), and also to let people know what is coming up!
The first thing that came to my mind was to get my
101 in 1001
up to speed - lots to post about there! I also want to update my sidebar, it's been ages since I've done that. I need to install my printer driver on my new computer and find it a nice home in my home, especially a place I can set up my speakers. That leads me to the other big thing can be visually described here: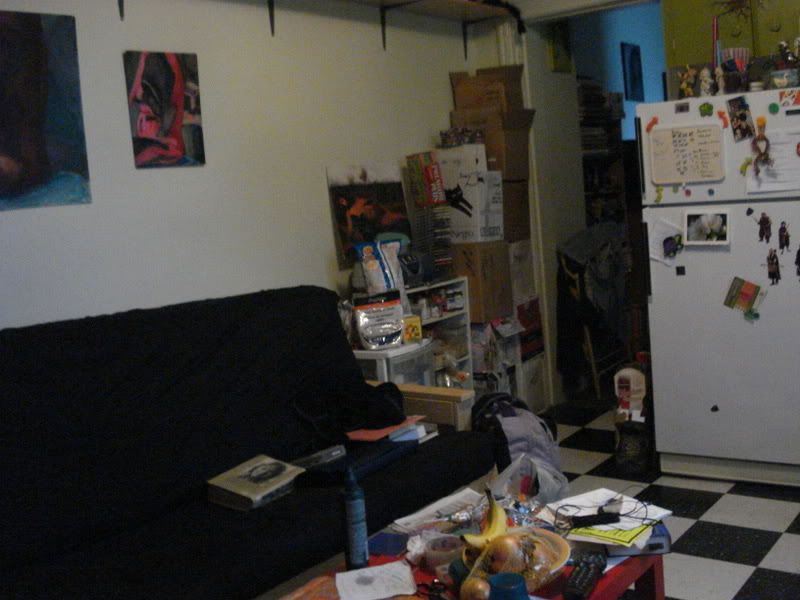 Oh, boy - clean up/sort out/finishing unpacking my apartment. It's been a good 3 months since I moved in and if I don't work on it soon I fear it won't happen. Well I don't really 'fear' that but you know what I mean. Wow, I thought there would be more on my list but I think that is it for now. I leave you with this cute pic of a random dog I saw who was patiently waiting for thier owners return.