#40 - Meet at least 1 online friend irl - Jarris & Rock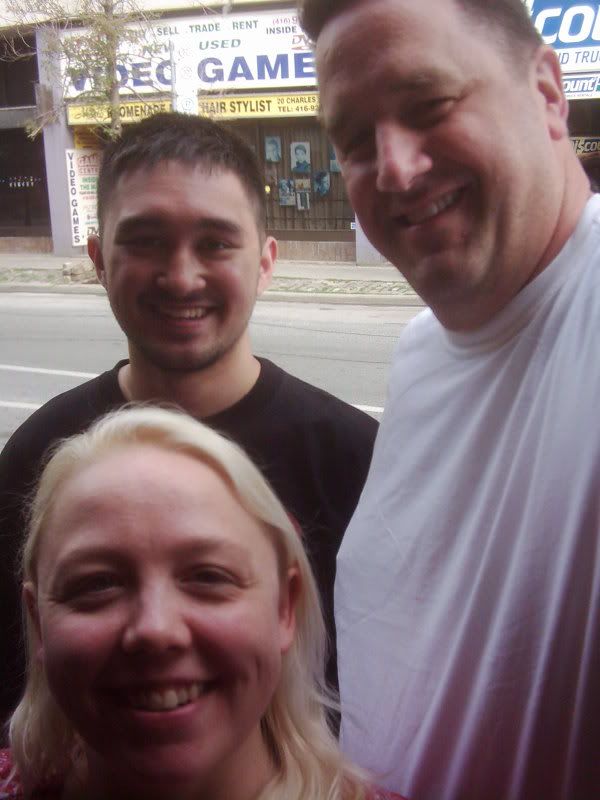 When: July 25, 2007 at 7 in the morning! omg.. 7 in the morning!
I've been friends with Jarris/Chris (left) and his Dad Rock/Bob (right), for I believe around 4+ years. We've been gaming buddies since back in the 'ole
DAOC
days, although now we are
WoW
'ers and used to literally play every day together (change in schedules has changed this a bit - boohoo!). I still remember the first time I met Jarris in game, he was in my guild and I was a wee little mite and I think he was already capped level. I was doing my best smishing little rats in Darkness Falls and he ran in (likely to do something much more exciting than rat smishing) and said Hi and helped me out and we've been friends ever since. So, it was a complete treat when they decided to take a trip to Toronto, woohoo lucky me! I'm still jealous they went to the zoo, I've not made it there yet! We had a lovely breakfast at 7West and got a chance to all catch up and chat in person - a complete delight!
Return to my
101 list
.
Return to
Planet Shannon