Well, I'm back! Lots of updates will be coming soon but to get the ball rolling I will stick to our regularly scheduled programming.
#7 - See 1 film a week in the theatre for a year
is in no danger with entries for week 37, 38 and 39 and over that time I got out to see 44 films in the theatre:
3:10 to Yuma
Le Cèdre penché
Glory to the Filmmaker!
The Mother of Tears
Le Voyage du ballon rouge
Ulzhan
Les Amours d'Astrée et de Céladon
Beyond the Years
A Promise to the Dead: The Exile Journey of Ariel Dorfman
Man of Cinema
King of the Hill
Boy A
September
The Wild Horse Redemption
Nos vies privé
Love Comes Lately
Shadows
Mongol
Chrysalis
Sad Vacation
Encounters at the End of the World
Forever Never Anywhere
Vexille
Shake Hands with the Devil
Contre toute espérance
Paranoid Park
SUKIYAKI WESTERN DJANGO
Normal
M
I am From Titov Veles
The Sun Also Rises
Blood Brothers
L'âge des ténèbres
Death Defying Acts
Kings
Flash Point
The Stone Angel
A Thousand Years of Good Prayers
Wolfsbergen
DAINIPPONJIN
XXY
My Winnipeg
Once
Resident Evil: Extinction
#38 - Keep a plant alive from 'The Auction' from one year to the next
. I was SO close but unfortunaley Berry kicked the bucket. Poor lil Berry... he tried so hard! Well, I swear if they have a porthos at the auction this year I'm soooooooooooooooooo getting one becuase I keep those alive.
#21 - Save a part of every paycheque
- done.
#94 - Read every day
- done! Some days this was definately just the free papers but I did also manage to start 3 books:
Summer Sisters
by Judy Blume,
War of the Worlds
by H.G. Wells and
The Four Hour Work Week
by Tim Ferriss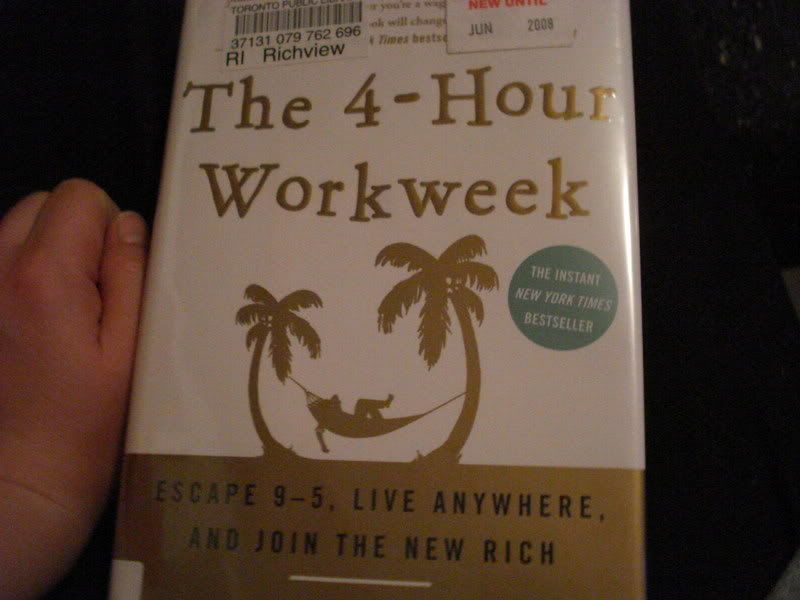 #92 - Learn/Discover something new every day
This did happen of the past 3 weeks but unfortunately for Monday Sept 3/07 - Sunday Sept 23/07 I don't have it recorded. I did learn how to name songs in iTunes, that the side seats on the main floor of the Bader are great but the upstairs ones are obstructed, during the festival they have popcorn (!) at the Elgin, how to use my new computer and that seeing 6 films in 1 day is a little much - even for me.
For my full 101 list, look
here
.