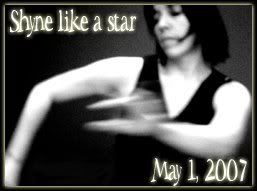 It's time to get up and dance, baby!!!!
People all over the world are doing it and you can too!
Dance for 15min today as be a part of the
2nd Annual Shyne Like a Star Virtual Dance Party
!!!
I know I did! Put on some fun funky music and got to groovin'! WoOHoo!!! It's been way to long since I've danced up a storm, and I hope to do it again real soon!