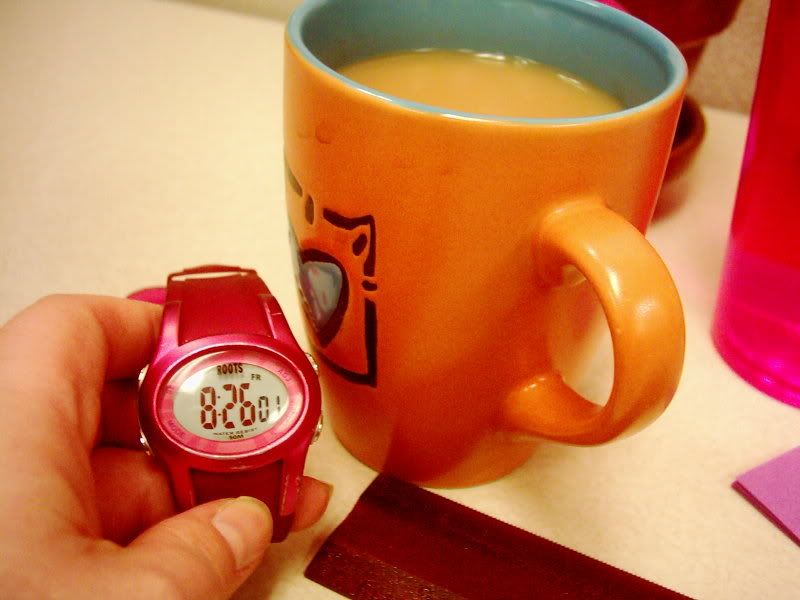 Completed: Oct 27 - Nov 27, 2006
Number of attempts to complete sucessfully: 17
This has been the hardest thing to do on my 101 so far.
Getting 8 hrs sleep/night
is a close runner up though. I never really thought of myself as someone who was late to things. Usually I'm early and have to kill time. But then I remember years ago either Jamie or my friend Gala said 'you are always late, well always rushed' when we would go out on Sunday nights. That was true! I would put on my makeup on the subway using my watch for a mirror. I would run outta the house holding the laces my my Doc's in my hand and lace them up while waiting for the streetcar.
This particular challenge, to be more succinct, was to get to work on time. I'm the back up person for the phones (don't get me started on that...), and they have to be answered at 8:30am. So, technically does it matter if I'm a little late? No.. not unless the primary person isn't there and I wouldn't know that in advance so I really feel I should always been on time. Now that I think about a fair number of the jobs I've had that has been the case. Also, it makes me feel like a goof that I find it so hard to get my butt outta bed and out the door to get there on time.
But I did it - a whole month on time! Once I got into the groove of it, it was fine. I'm not sure why. A lot of times I ended up being earlier. It's easier to be earlier or late than on time... on time is a very small window.
Edit: I forgot to mention that it only takes me 15min to get ready. Once I realized that is isn't really possible to get to work on time without 15min prep, I was more likely to actually get up and outta bed 15min before I had to leave.
Ironically... today I was a 1/2 hr late. haha.
Return to my
101 list
Return to
Planet Shannon